45 hurt as US-bound plane hits turbulence over Japan
TOKYO — Forty-five people were injured, at least three seriously, when a Northwest Airlines Boeing 747 hit turbulence on the Manila-Tokyo leg of a US-bound flight, according to airport officials.
Ambulances took the injured to local hospitals after the jet with 408 passengers and 14 crew landed at Narita International Airport outside Tokyo at 12:19 pm local time (0319 GMT) on Friday, an airport official said.
The flight had been set to continue on to Los Angeles after a stopover.
"The latest information we have is that 39 passengers were injured in addition to six crew members," said Toshiaki Nohara, a spokesman for Narita Airport Authority, which runs the airport.
A middle-aged woman passenger, speaking in accented Japanese, told the TBS television network: "The person in front of me flew up to the ceiling. The person behind me collapsed and looked unconscious."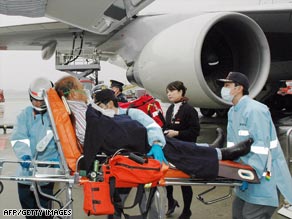 A young man, also speaking in halting Japanese, said: "I was really scared. I thought I would die. The plane shook so much, and my whole body hovered up in the air. Inside the cabin, everybody was screaming loudly."
Northwest Airlines spokesman Masashi Takahashi said: "Air turbulence is believed to be the cause. The turbulence occurred 25 to 30 minutes before landing, when the seat belt light was on."
"During the flight, we received a message from the pilot saying two or three people were injured. But (the pilot) probably assessed that an emergency landing was not necessary," Takahashi told AFP.
"It is possible that the people injured did not have their seatbelts on, otherwise all of the 422 (people aboard) would have been injured as well."
Television images in Japan showed medical workers carrying two passengers off the plane, one on a stretcher and one in a wheelchair, while one young girl could be seen wearing a bandage around her head.
Among the most seriously injured were three Philippine nationals, two men and one women, Jiji news agency reported, quoting local police.
A 55-year-old US passenger said he heard screams when the plane suddenly descended before rising again, some 30 minutes before landing, the Kyodo news agency reported without naming the man.
Some people who did not have their seatbelts fastened hit their heads on the ceiling and injured their necks, he reportedly said.
The accident occurred while the Boeing 747-400 aircraft was circling over waters off Japan's Chiba Prefecture awaiting permission to land at Narita airport, officials said.