Countdown To Reality
30 August 2015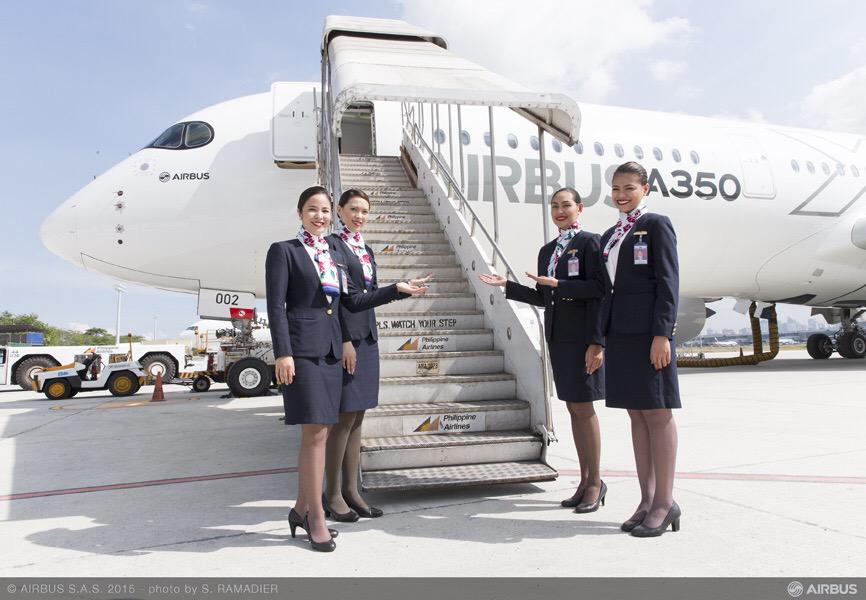 At 6500nm the A350-900 proves to be the most efficient plane from Los Angeles to Manila
There is no official announcement just yet but Philippine Airlines (PAL) is expecting to order the Airbus A350-900 in couple of days following Cathay Pacific direction in fleet planning.

Commonality

Frame commonality to existing Airbus wide body fleet of PAL that would

consolidate pilot rating from the Airbus A330/A340 to the A350.
The European Aviation Safety Agency (EASA) and the US Federal Aviation Administration (FAA) already approved common type rating for A330/A340 and A350 aircraft types last year.
Pilot Training
Simplified Pilot training for eight (8) days from operating A330-300 and A340-300 to A350-900 flights.
According to Airbus, the "differences training" of A330/A340 to A350 aircraft types does not necessitate the use of a ground-based full-flight-simulator, which allowed it a 65 percent reduction in pilot training time comprising eight days as compared to standard transition course.
Training course facilitates the creation of a pool of pilots who can fly both the A330/A340 and A350 XWB in a single-fleet flying (SFF) concept for increased scheduling flexibility and mobility.
The conversion course involves 4-day ground course + 4 days of systems training, afterwards A330/A340 pilots make their first take-off and first landing in the A350.
Fuel efficiency
2.4% better engine efficiency of Rolls-Royce Trent XWB-84
1.5% LAX-MNL
9% lower block fuel burn per seat

Unprecedented 370-Minute ETOPS Diversion Time

F

acilitate more efficient transoceanic and transpolar routes like New York to Manila.
Passenger Comfort
3-3-3 seat layout in Economy, generous-by-modern-standards 18" seat width and 32" legroom
2-2-2 seat layout in Business, either 36 or 48 Business Class seats and 60" legroom
HD touchscreen monitor (17" in Biz, 10.6" in Econ) plus a touchscreen remote
Payloads
11 more passengers under similar configuration