28 August 2015
UAE-based Airlines carried less than 30% traffic
to Abu Dhabi and Dubai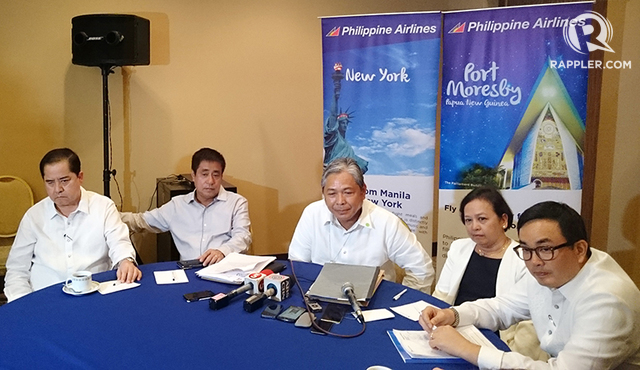 Image courtesy RAPPLER,

Photo by Chris Schnabel
Philippine Airlines said Thursday that Philippine-based carriers transported more passengers to the United Arab Emirates than Abu Dhabi-based Etihad Airlines and Dubai-based Emirates Airlines combined, says an airline executive.
PAL Chief Operating Officer and President Jaime Bautista said they have all the data to prove that Etihad and Emirates Airlines carried only less than 30% of its passengers going to the UAE while the rest of its passengers goes to other destinations.
"The figures that we got is that Emirates carries less than 30% of passengers who stay in the UAE. So around 70% of its passengers are those that fly beyond Dubai. The other carriers (referring to Etihad) are carrying passengers in the same percentages," Baustista said.
"Going by those figures, it shows that PAL and Cebu Pacific (CEB) are actually carrying more passengers between the two countries so that's why we think there is an overcapacity in that market," he added.
Bautista said both PAL and CEB has already furnished the Philippine government regulators of the data to support their position that there was no capacity shortfall for the route. He added that both PAL and CEB passengers are those who travel between the two countries, while UAE carriers carry passengers beyond Dubai and Abu Dhabi.
"PAL, alongside Cebu Pacific, are operating only 21 per week. So it's a demonstration that the market cannot sustain additional demand." says Bautista.
The Air Service Agreement allowed 28 flights per week between Manila and the UAE and unlimited landing rights to select regional airports in the Philippines.
"If the market demand were strong, then we would fight each other (referring to CEB) for the additional 7," Bautista said.
He explained that their passengers data actually proves their position that there was no capacity shortfall to begin with otherwise they would have flown the unused 7 frequency.
Bautista added that additional entitlements could result in the dilution of the passenger loads in PAL's flights to London, and other proposed European destinations because these airlines can carry passengers from Manila to Abu Dhabi or Dubai, and extend it to Europe and the US, which is clearly a demonstration of abuse of air traffic rights.
Both PAL and CEB flies to Dubai 13 times a week as compared to 14 times a week by Emirates Airlines, while PAL flies 6 times a week to Abu Dhabi as compared to 14 times a week by Etihad Airlines.