But are Middle Eastern Airlines biting?
March 24, 2009
Angeles City — Clark International Airport Corp. (CIAC) recently announced commencement of flight from the middle east, and that the airport authority are currently in negotiations with Middle Eastern carriers to link the Diosdado Macapagal International Airport (DMIA) to their respective hub in the Middle East.
The question is, are the famous airlines of the gulf State banking on the call?

Victor Jose Luciano, CIAC President, said on Friday that they "may be getting a major Middle East carrier to fly out of the DMIA" soon but refused to disclosed the airline pending negotiations.

Clark airport has a terminal that can handle up to
2 million passengers
. Currently, the Airport accommodated approximately about over a million passengers in 2008, serviced by the following airlines Cebu Pacific, Seair, Tiger Airways, Air Asia, Asiana Airlines, and other chartered airlines.
Its $142-million terminal 2 expansion project remains suspect as its present terminal merely accommodated roughly above 50% of its Terminal 1 capacity or 1 million less of its current projection for 2008 thus making its construction economically non viable at the present.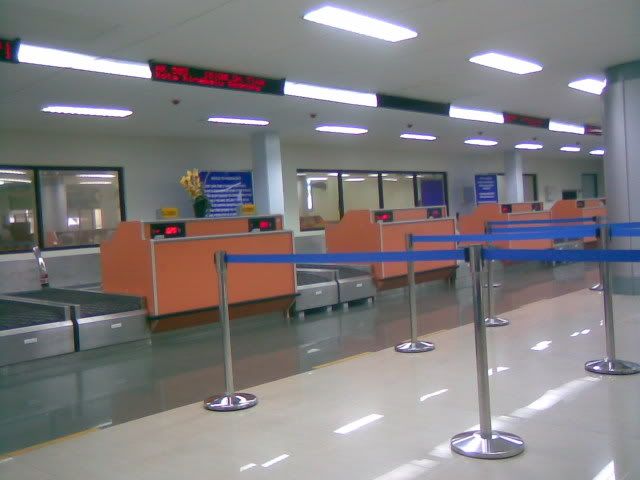 Already, the capacity of the Terminal 2 has been reduced to a minimum requirement of 3 million passengers per year instead of the previous 7 million passengers capacity for the new terminal project of the airport but nobody is biting the offer until now.
Even Incheon Airport operator Incheon International Airport Corporation(IIAC), which was recently voted as the best airport operator in the world for 4 consecutive terms, begged off to operate the airport for being too ambitious.

The terminal is supposed to be operated under a 70-30 joint venture program but it suffered a snagged when its expected passenger numbers were not met in 2008 despite more than 5 million airline seat offered to the airport.
CIAC meanwhile announced that it is now evaluating Pacific Avia Group, Inc. (PAGI) as possible joint venture (JV) partner in the project that could cost anywhere from P3 billion to P7 billion. CIAC vice president for administration and finance Romeo Dyoco, who chairs the joint venture-selection Committee (JV-SC), said whoever will be CIAC's partner will "design, finance, construct and operate" the proposed terminal 2 which will increase the passenger capacity of its terminal to 5 million.
Construction however doesn't make sense as its old terminal is far from reaching its full capacity which judging from current statistics, other than that provided by the corporation, is expected to be breached 7 years later or sometime in 2015, and that is for terminal 1 capacity only.
There is no question that DMIA has one of the best logistics and service hub in Asia Pacific and the soon to be primier airport in the Philippines, but its present passenger traffic is substantially dismal in all respect. Making another terminal at this point is just an illusion of grandeur when it can best be served by expanding Cebu International Airport instead.
Asiana flies daily to Incheon, South Korea, with connecting flights to the US; Tiger Airways flies twice daily to Singapore; Air Asia daily to Kuala Lumpur and Kota Kinabalu; Cebu Pacific daily to Singapore, six times a week to Macau, five times a week to Hong Kong, twice a week to Bangkok, and daily to Cebu; and Seair daily to Caticlan for people who want to go to the world-famous island resort of Boracay.
Luciano said that more airlines are expected to mount flights to more countries, particularly to the Middle East, as CIAC has secured entitlements to Kuwait, the United Arab Emirates and Qatar just this year. But the Philippine Airlines code share partner in Qatar and UAE manifested recently its intention of adding flights not to Clark but Manila.