Orders 5 more 320 to Expand Fleets
Cebu Pacific signed a deal for 5 Airbus planes at this year's Paris Air Show
LE BOURGET
- Airbus, the European plane manufacturer owned by EADS, edged Boeing into big lead Tuesday as it announced that it will produce 24 A320 jets for the Middle Eastern airline Qatar Airways, 5 A320 jets for Philippine carrier Cebu Pacific, and 1 A320 prestige from a private Asian customer in a deal worth more than $2 billion.
The European planemaker also won a deal for 16 single-aisle A321 jets worth $1.4 billion at list prices from Vitnam Airlines on Tuesday as it expands its regional and domestic route networks.
The orders was well below the $25 billion raked in the first day of the last big show, at Farnborough, England last year.

John Leahy, Airbus Chief Operating Officer, said the company has more orders in the pipeline, in an interview at the Paris Air Show on the second day of the show at Le Bourget outside the French capital.

"Of course, the figure could be less, but I'm keeping this target of 300," Leahy said.
US aviation giant meanwhile did not announce any orders on the first day but Boeing Company executives said the industry's prospects were robust, yet the Chicago-based rival has reported no new orders so far.
"At this point it appears to us that the economic conditions have bottomed," said Scott Carson, President and Chief Executive of Boeing's commercial aircraft division. "If they have bottomed and a recovery comes next year, I think we have a shot at getting through."
The commercial aviation industry has been hit hard by the global downturn, with its airline customers expected to sustain $9bn of losses this year, according to industry body International Air Transport Association (IATA).
Qatar Airways Chief Executive Akbar Al Baker said the A320s represent new orders, while the remaining four are A321 models announced at the Farnborough Air Show last year.
Mr Al Baker said the aircraft would be delivered from November this year and used to expand its regional, Eastern European and Southwest Asian services.
He added Qatar Airways was "determined to grow" with the world's best aircraft at the heart of a modern and fuel-efficient fleet.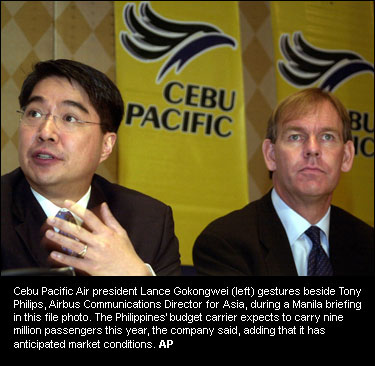 Cebu Pacific has made a firm order for five single-aisle A320s worth a total of $385 million at list prices.
Delivery of the new order is scheduled from October 2010 to November 2013. The airline is considering an option for 5 more jets but the decision to acquire is not yet taken. It is also shopping on leases for 4 wide-body aircraft from GECAS an aircraft lessor at the show.
The airline had earlier signed a $100-million OnPoint solution agreement with GE Aviation's services business. The 12-year service contract includes general maintenance and repairs, parts procurement, technology upgrades, engine leasing, and overhaul of the CFM56-5B engines. CFM56-5B engines are the product of CFM International, a 50/50 joint company between General Electric Company and Snecma (SAFRAN Group).
OnPoint solutions are customized service agreements tailored to the operational and financial needs of each customer for any size fleet. These agreements are designed to help lower the customers' cost of ownership and maximize the use of their assets. Backed by GE's global support network, OnPoint services may include overhaul, on wing support, new and used-serviceable parts, component repair, technology upgrades, engine leasing, integrated systems support and diagnostics and integrated systems.
Cebu Pacific President and CEO Lance Gokongwei said the additional orders are needed because of the airline's expanding domestic and international operations.
"This expansion will more than double passenger capacity and enable us to provide our trademark low fares for new domestic and international destinations. We expect to increase our passenger numbers from nine million this year to 15 million in 2013," the CEO said.

"The global economic downturn notwithstanding, we are experiencing a surge in the number of passengers flying Cebu Pacific mainly because of our low fares. We expect this growth to continue, hence our decision to further expand our fleet," he said.

Vietnam Airlines total order is worth around $1.9 billion when it firmed two more A350-900s worth $480 million. It placed a firm order for 10 A350 XWBs in December 2007 .

Tuesday's deal increases the total number of orders placed by Vietnam Airlines for A321 to 41, of which 14 have already been delivered.
"Vietnam will remain one of the key growth markets in Asia in coming years," Airbus Chief Executive Tom Enders told the news conference.
This week's Paris Air Show is celebrating its 100th anniversary and was opened to the industry on Monday for business and will open to the public on Friday.