Asia Broadcast Satellite To Acquire Agila-2
N0vember 8, 2009
Manila - Philippine Long Distance Telephone Company (PLDT) said yesterday that it has agreed to sell all its 67- percent stake in Mabuhay Satellite Corp. to Asia Broadcast Holdings Ltd. (ABS), a Bermuda-based company engaged in the satellite business.
PLDT said in a disclosure to the Philippine Stock Exchange that the purchase agreement would become effective after the completion of a due diligence and regulatory approvals in the Philippines and the US, a separate joint statement said.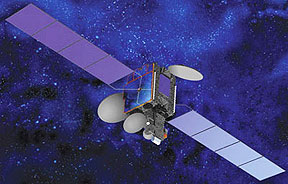 MSC's Agila-2 satellite is a Space Systems/Loral FS-1300 spacecraft that was launched in August 20, 1997. The satellite has a payload consisting of 24 Standard C- and 6 Extended C-band transponders cov
ering Asia from India to Philippines, Japan to Indonesia, and a C-band spot beam over Hawaii to provide connectivity to the USA. The satellite also has 24 Ku-band transponders covering the Philippines, Coastal China, Taiwan, and Hong Kong, providing capacity for TV distribution, DTH and VSAT services.

The MSC Subic Space Center is a state-of-the-art satellite communications facility in the Philippines providing full satellite operations, payload and client monitoring, tracking, telemetry and control services, and a f
ull Network Operations Center (NOC) managed 24/7 by highly trained professionals since January 1, 1998.
"The transactions between Mabuhay Satellite and ABS involve the wholesale lease by ABS of the Agila-2 satellite from Mabuhay Satellite and, upon the satisfaction of various conditions precedent, the purchase of ABS of the business of Mabuhay Satellite," says Gabriel Pimentel, MBC CEO.
"ABS, while one of the youngest satellite operators in Asia, has been very progressive with the recent procurement of ABS-1A and ABS-2 satellites as part of its fleet's expansion," Pimentel said in a statement.
He said the acquisition ensured the future continuity of Mabuhay Subic Space Center and its growth "as this facility is further expanded to support ABS' growing satellite operations needs."
Since then, MSC has successfully positioned itself in the competitive international satellite communications arena by offering video, Internet protocol and telecommunications solutions for clients in Asia and in North America.
Tom Choi, chief executive of ABS, said the purchase was "very strategic" for the company because of the many synergies it created in combining Mabuhay Satellite's range of applications, operational expertise and business relations with his company's future growth and long-term objectives.
"ABS will maintain all of Mabuhay's operations in the Philippines and the staff will be integrated with the ABS team. We feel that this is the perfect complementary marriage of the two companies," Choi said.
According to PLDT, Asia Broadcast would lease the Mabuhay Satellite facility pending regulatory approval of the sale, with current president and chief executive Gabriel Pimentel operating and managing the business on behalf of the prospective buyer.PLDT did not disclose the purchase price.
PLDT was earlier in talks with two companies engaged in satellite business after it found that its former partner has filed for bankruptcy.
Bermuda-based ProtoStar Ltd. was supposed to provide service for PLDT on five C-band transponders on its ProtoStar 1 satellite from 2011 to 2017. ProtoStar has already received from PLDT some $27.5 million as prio-rity deposit under the agreement.
But news broke out that ProtoStar and its affiliates ProtoStar Satellite Systems Inc., ProtoStar I Ltd., ProtoStar II Ltd., ProtoStar Development Ltd. and ProtoStar Asia Pte. Ltd. each filed for voluntary petitions for relief under Chapter 11 of the US Bankruptcy Code. The cases are pending before the US Bankruptcy Court in the District of Delaware.
Mabuhay Satellite Corporation (MSC)
, incorporated in November 1994, is the first Philippine company to own and operate a communications satellite.
The Philippines host two orbital satellite slots with the country hosting its first satellite Agila-1 (Palapa B2P) launched in Cape Canaveral Florida, USA on March 20, 1987 but is controlled by Indonesia's Pelumtel until 1996 when it was sold to PLDT for $3 million. It was de-commissioned on December 31, 2007 and replaced with Agila 2 .With the impending sale of Agila-2, the country loses the only satellite it controls. In the meantime, the Agila-3 project is scheduled be launch soon.