As Regulators approve Cebu Pacific's $265M IPO
March 20, 2010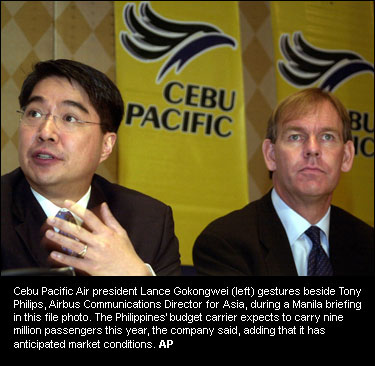 CORPORATE REGULATORS have approved the initial public offering of Gokongwei-led Cebu Air, Inc., allowing the budget airline to secure almost P12 billion in cash from the equities market.
In an en banc decision yesterday, the Securities and Exchange Commission (SEC) allowed Cebu Air, operator of Cebu Pacific, to list 235.562 million shares on the stock market on May 4. The budget airline will have the stock symbol "CEBU."
The SEC approved the "offer of [Cebu Air] shares, consisting of up to 125.253 new shares to be issued and offered by the company, and up to 110.309 million existing shares offered by the selling shareholder, and up to 35.334 optional or over allotment shares."
Cebu Air can offer as much as 164.894 million shares internationally while 47.112 million and 23.556 million shares will be sold to Philippine Stock Exchange brokers and investors, respectively, at a maximum price of P95.00 each.
ATR KimEng Capital Partners, Inc. was tapped as the domestic lead underwriter while the Hong Kong branch of Deutsche Bank AG and J.P. Morgan Securities, Ltd. will be the international underwriters.
Net proceeds from the primary offering were estimated at P11.561 billion.
Last week, Cebu Air said it would use the bulk of funds to be raised from the IPO to buy up to 20 more aircraft within five years.
"It's going to be for capital expenditures for purchasing airplanes. We have a purchase order from Airbus for 15 Airbus A320 in the period of 2010 to 2015 and an option to buy five more," said Bach Johann M.
Sebastian, senior vice-president for corporate planning of listed JG Summit Holdings, Inc., in an interview early last week.
Mr. Sebastian said going public was only one option, and that the company could also borrow from export credit agencies. Cebu Pacific can also tap the lease market, he said.
Documents showed the carrier needed to make P9 billion in advanced payments to increase its fleet to 49 by 2014.
The company originally planned to go public in 2008 but postponed the listing due to difficult market conditions.
Cebu Air turned around last year by posting a net income of P3.184 billion, from a net loss of P3.259 billion in 2008. Operating income almost doubled to P3.164 billion from P1.727 billion in 2008.
Shares in parent firm JG Summit Holdings rose to P8.50 apiece yesterday from P8.30 per share on Wednesday. --
Neil Jerome C. Morales
,
Businessworld