Confirms Option
April 22, 2010
Delivery Schedules
2010- three A320

2011 - three A320

2012 - four A320

2013 - five A320

2014 - seven A320



Toulouse
- Philippine carrier Cebu Pacific has placed a firm order for seven more Airbus A320 aircraft powered by CFM56 engines in a deal worth $1.4 billion, Airbus announced Tuesday. This increases Cebu Pacific's A320 order backlog to 22 jets, set for delivery between the last quarter of 2010 and 2014.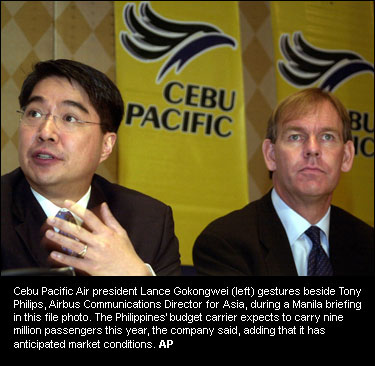 Lance Y. Gokongwei, president of Cebu Pacific operator Cebu Air, Inc., said in a press briefing yesterday that it will expand its fleet over a five-year period to meet growing demand for low-cost air travel.
"We are buying 22 more new aircraft and by 2014 we will have a fleet of 51 aircraft and the largest A320 fleet in the Philippines. The aircraft will start arriving between 2010 and 2014. The reason is that the demand for our services has been very good so we want to increase our capacity," Mr. Gokongwei said.
Cebu Pacific has a current fleet of 29 aircraft majority of which belongs to the A320 family. They also operates 8 ATR 72-500 deployed to smaller airports across the country.
Rockwell Collins avionics was chosen by Cebu Pacific Air to provide a full suite of communication, navigation and surveillance systems as baseline equipment for the airline's 22 new Airbus A320 aircraft.
Mr. Gokongwei said the purchase of new aircraft would be covered by internally generated funds and export credit.
"The purchase doesn't depend on the IPO. It's actually a combination of funding strategies. We will reconsider the IPO after the elections but there really isn't a definite timeline on that," said Mr. Gokongwei.
Gokongwei further said that three Airbus A320s will be delivered in the last quarter of 2010; another three will be delivered starting June towards the end of the second half of 2011; four units by 2012 ; seven by 2013; and five by 2014.
By the end of 2014, Cebu Pacific's fleet size would have grown to 51—composed of 10 Airbus A319s, 33 Airbus A320s, and eight ATRs. The airline now has 10 Airbus A319s; 11 Airbus A320s; and eight ATRs for a total of 29 aircraft.
"By 2014, Cebu Pacific will have the largest Airbus A320 fleet in the Philippines, and the second-largest in Southeast Asia. Cebu Pacific will also double its seating capacity in the next five years," said Gokongwei.
Starting October 27, 2010, the airline will add new frequencies from Manila to Cagayan de Oro (six times daily), Zamboanga (thrice daily), Pagadian (five times weekly), Davao (six times daily), Tagbilaran (twice daily), Coron (12 times weekly) and Kalibo (16 times weekly). International flights to Taipei will become daily starting Oct. 31, 2010, and Jakarta flights will be four times weekly starting Dec. 19, 2010 while flights to Seoul will be twice daily starting Jan. 24, 2011.
The airline will also add more frequency to the following domestic destinations starting Nov. 24, 2010, and they are as follows:
Manila-Boracay (79 times weekly),
Manila-Cebu (13 times daily),
Cebu-Boracay (twice daily),
Cebu-General Santos (daily),
Cebu-Puerto Princesa (daily), and
Cebu-Bacolod (twice daily).
The Cebu-Zamboanga and Davao-Zamboanga routes will also be upgraded from an ATR72-500 to an Airbus A319, increasing capacity for its daily flights.
The carrier currently flies to 33 domestic destinations and 14 cities across Asia Pacific Region.