By Lance Y. Gokongwei
CEO, Cebu Pacific
First Posted on the
Philippine Daily Inquirer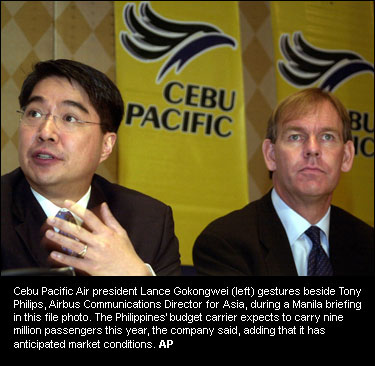 WE HAVE always been supportive of Aviation liberalization including "open skies" agreements with other countries. Why wouldn't we be? We were a major beneficiary of domestic aviation de-regulation. And we have never been shy telling media about our support for a liberalized aviation industry.
But a few weeks ago, we broke corporate tradition at Cebu Pacific, and went public with our concern over the lack of reciprocity under EO 29. It was a first in CEB's 15-year history.
We decided to come out and engage the issue constructively so there would be a better understanding of why reciprocity based on equal opportunity is extremely important not just to Cebu Pacific but also to the public in general.
We agree with the objective of EO 29 to bring in more tourists. It is posited that if foreign carriers are allowed to compete and freely fly to the Philippines the tourists would come.
There are two key aspects introduced in EO 29: increased competition and unlimited access to our skies by foreign carriers. We have no issues with these.
We would like to add a third aspect: reciprocity. We would like to be part of this competition. If foreign carriers are given unlimited access on routes to and from the Philippines, we believe it is only fair, that CEB and other local airlines be given unlimited access to and from the Philippines to these carriers' home countries, on an equal opportunity of access; on a level playing field.
Reciprocity will keep all airlines on their toes and allow Filipino carriers like CEB to compete with foreign carriers. Ultimately, more competition leads to lower fares, benefiting not only CEB but the whole tourism industry, here and abroad.
We are very proud to say that Cebu Pacific's low fares played a major role in spurring growth in tourism as shown by the 127 percent growth in domestic tourism in the last five years. From 7.3 million in 2006 to 16.6 million passengers in 2010.
International tourism from the markets we serve has grown much faster than from the markets we do not fly to. Last year alone we grew our International traffic by 39 percent. That's 2.2 million passengers in 2010 alone.
Further examination of the data will prove the case. In 2005, a year before we started flying CEB planes to Singapore, tourist arrivals were estimated at 69,435. Since we introduced lower fares to Singapore in 2006, that rate has grown by 74 percent, resulting in 121,083 tourist arrivals from Singapore last year.
Perhaps, at the risk of sounding immodest, these facts show we have championed tourism and will continue to do so wherever we are allowed to fly and compete.
Examples of lack of reciprocity
Now, let me cite a few examples of the consequences of non-reciprocity:
Seat limitations skewed to favor foreign carriers over local carriers. The existing agreement between the Philippines and Hong Kong limits local carriers to only 2,500 seats per week on the Hong Kong-Cebu route; Hong Kong carriers get the same number. Under EO 29, Philippine carriers will still be limited to 2,500 per week but all Hong Kong carriers can now fly this route without any limit.
Exhaustion of air rights in major destinations and routes.
An early EO in 2008 declaring "open skies" sans reciprocity in Clark resulted in Hong Kong Express flying into Clark without limitations. CEB was unable to compete because air rights to Hong Kong were fully utilized at that time. CEB could not use Clark unless it reduced its HK services from Cebu. This was solved only after subsequent bilateral air talks resulted in additional air rights. This undue delay in CEB's ability to compete with a foreign carrier should not have happened if reciprocity was in place. CEB has been flying to HK everyday since and offering the lowest fares out of Clark.
Inability to offer lower fares to potential high yield tourist markets. Japan has always been considered a major tourism market. Currently CEB flies to Osaka three times weekly. We have been asking for additional flights to Osaka which the Philippines is entitled to under the current Philippine-Japan Air Services Agreement. However our request, to this day, has not been approved. In the meantime, All Nippon Airways (ANA) was recently allowed to come in and operate flights from Tokyo to Manila under the very same Air Services Agreement. This is another example of the lack of reciprocity.
Example where reciprocity worked
A notable success story that we think we can build on and use as model is Korea:
In 2007, the Philippines negotiated a new air services agreement with South Korea, raising the capacity limit for each country to 19,000 seats a week almost a three-fold jump from the previous limit of 6,800.
As a result, today, we compete with Korean carriers on Incheon and Busan routes, and airlines such as Korean Air, Asiana, Air Busan, and Jeju Air are adding flights into the Philippines. Korea today is the country's No. 1 source of tourists.
Moving forward
We propose that we move on these three fronts to realize quick wins:
Japan open skies—Japan had signed open skies agreements this year with Singapore, Malaysia, and South Korea; and with the US late last year. It took their respective governments an average of just more than a month to finalize these agreements. Japan is open to more such agreements with ASEAN and this presents an opportunity the Philippines must grab quickly.
Asean open skies—There are currently efforts to have an Asean Open Skies regime but the Philippines and Indonesia remain as holdouts. If we sign this, the region will be open to each country's carriers on an equal footing. This is a regional effort which I think will work better than a unilateral approach.
Middle East and Europe open skies—We also support reciprocal open skies agreements with regions like the Middle East and Europe where Philippine carriers don't fly to today provided of course we can, if and when we are ready.
CEB position
Let me just quickly repeat our position:
We welcome and support EO 29, the opening of all Philippine airports, except Manila, to all foreign carriers. However, we would like, to also be given the opportunity to compete with these foreign carriers on those same routes, and offer our trademark low fares not only to their nationals/tourists but to our own OFWs as well who live or work there. This is reciprocity and is most fair.
EO29 also offers to foreign carriers unlimited 'fifth freedom rights'. We have no issue with this provided their governments allow us the same opportunity. We believe the requested reciprocity can be accommodated in EO 29's implementing rules and regulations.
We are not asking for special favors. We became the Philippines' largest National Flag Carrier without any. We have invested heavily in the country, employ more than 4,000 Filipinos and we have given every Juan the opportunity to fly with our low fares. All we ask for is the opportunity to compete on a level playing field.
Let us have Open Skies for all, not Open Skies for foreign airlines and Closed Skies for Filipino carriers.
(Gokongwei, president of Cebu Pacific, made this statement in a recent forum.)