Flying the Philippines Remotest Airport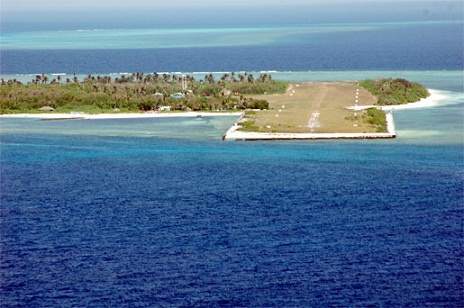 July 24, 2011
By Joseph Holandes Ubalde
(This article was originally written in 2008, during the author's visit to Pag-asa.
It has remained unpublished until now. The photos are also from that visit.)
PAGASA ISLAND, Palawan - After 45 minutes of staring at nothing but turquoise waters, Pag-asa Island finally appeared in my plane window like a sandy green gem, tiny waves lapping at its shore.
My excitement was replaced by sudden fear as the C-130 plane made a bumpy landing on the island's lone airstrip.
When the doors opened, the balmy wind was first to welcome us. But instead of locals with garlands of flowers greeting us, a pack of soldiers in camouflage approached the plane.
To the rest of the world, this idyllic paradise, the second largest island in the disputed Spratly chain in the westernmost part of the Philippines, is perhaps the most secure and heavily guarded area in the country. But to the soldiers deployed there for six months, it seems more like the loneliest.
The only cellphone site on the island makes communication with the outside world a choppy four-hour frustration.
Only C-130 planes are allowed to fly over the Spratlys once a month for reconnaissance missions. And to prevent any sand blown by the sea breeze from clogging engines, a plane can only stay for a brief two hours.
After that, Pag-asa truly becomes an island.
I was among the lucky few civilians who managed to visit the island with 60 soldiers who were on a military school field trip last March 2008. My good friend, "Jodi" dragged me along with her to visit "Abe", her boyfriend, who happens to be one of the soldiers on Pag-Asa.
Lucky me indeed for visits to Pag-Asa are few and far in between. To get to the island we had to endure the hot and nauseating two-hour C-130 flight from Villamor Airbase in Pasay City to Puerto Princesa in Palawan before transiting to the Spratly chain for another 45 minutes.
As soon as Jodi and Abe were reunited, I went off to discover the island on my own. It would take only 30 minutes to tour the entire 37.2-hectare island by foot. I started my two-hour stay there strolling the shore barefoot.
I had quickly undressed to my shorts, anticipating a quick dip. But no one else dared initiate it. Perhaps the soldiers were too busy taking pictures of each other. And I couldn't blame them, since their first trip to the Spratlys could very well be their last.
A soldier there remarked that Pag-Asa is like Boracay before the tourist invasion of the late 80s—which allegedly caused the once turquoise water to turn mossy green— but with the added security of Camp Crame.
But as soon as we landed, it became clear that Pag-Asa is no Bora.
There are no umbrellas hoisted on the sand, no reclining white chairs for sunbathers, no hammocks swaying gently between the coconut trees. All one sees are ill-colored concrete boxes that soldiers call their camp.
Pag-Asa's beach is also far from having Boracay's talcum-like sand as broken corals bleaching under the scorching sun could quickly prick one's toes. There are also purple lilies snaking through the beach in a seemingly desperate attempt to quench their thirst. Rocks, twigs and seashells dot the sand. Overturned fishing boats are stacked on the grass like a powerful wave swept them there.
But if it's any consolation, in the absence of jet skis and sailboats, there's the breathtaking view of a rusted Navy ship stuck in the shallows. No one really explained to me how the ghost ship got there but one of the soldiers pointed out that it's a good way to scare foreign ships.
"They're scared to get closer because they might get tetanus," one of the soldiers joked.
It's also amazing how nature and military might could blend in perfect harmony on Pag-Asa. A few meters from the camp is an abandoned army tractor left idled in eternal pose against the swaying needle-point grass. And in some minor Orwellian twist, one of the military latrines unwittingly became overrun by domestic geese, ducks, chickens and goats.
It's not that soldiers there are poor housekeepers. Despite the construction of several structures on the island, the military has vowed to keep Pag-Asa as untouched as possible. So visitors are told to take nothing but pictures and leave nothing else but fond memories.
Although the water and the weather were inviting, the soldiers were content just sitting under the shade or collecting sand in emptied mineral water bottles.
But when Abe handed me his snorkeling gear, I wasted no time and immediately jumped into the water. I saw only a pair of fish on my initial dip, scurrying away so fast I had no time to marvel at them.
I was moving towards the sea grass bed in deeper waters when Abe called out and warned me not to go any further. Apparently, the warm tropical waters make excellent feeding grounds for a couple of sharks.
On a really clear day, a soldier said the Taiwanese flag from one of the smaller islands can be seen. But the Taiwanese never visit them. Instead, fishermen from Puerto Princesa, who know the bounty of the sea off Pag-Asa, regularly stopover and sell them their fresh catch.
And yes, the island is giving. A day before our scheduled arrival, Abe speared two medium-sized lobsters for Jodi to bring back home. Solders also dried freshly-caught 'dalagang bukid' as pasalubong for their visiting relatives.
With the island's population kept below 350, supplies and space are closely monitored by the military. Every need of the soldier and the civilian on the island is accounted for. Their supply of rice or meat is meant only for those on the island. Should the soldiers need anything extra, they turn to the island and the sea.
I walked around the island with my camera. One Army colonel told me it would only take me a full hour to walk around the island and five months for the next C-130 plane to arrive if ever I decided to do just that and was late for the scheduled departure. Visits to this island by plane are rare as the military's C-130 plane can only land on the airstrip. Relatives of the soldiers can only visit when they join the military on reconnaissance missions to the island or board a four-our boat ride from Palawan.
While Pag-Asa's soldiers have yet to fire a shot in anger, they are quick to learn to kill time in order to survive. They hold regular sports activities to keep fit, do minor construction work in the camp or jog around the island. With the weak cellphone signal in the area, the soldiers often end up frustrated when they try to contact their loved ones back home. Loneliness and boredom are always knocking on their door when they wake up.
Abe, who graduated from the Philippine Military Academy, is fortunately not new to this.
While Pag-asa's soldiers have yet to fire a shot in anger, they are quick to learn to kill time in order to survive. Abe, who graduated from the Philippine Military Academy, is fortunately not new to this.
In his five years in the academy, Abe endured a series of mental and physical challenges that included isolation and seclusion. As a plebe, Abe was prohibited from being visited in Baguio City by his girlfriend or relatives for a year. During their recognition day, their parents and loved ones may come to visit but the soldiers are not to display any emotion, much more a hug.
If they survive this, they have passed their psychological training and are one step closer to being called real men.
"You get trained to be isolated. You need to remember that time so that when you encounter a similar situation you'll know," Abe said.
Last February, Abe became one of the chosen few stationed on the Spratlys chain of islands to fortify already existing structures there. In their free time, the men grab their swimming gear and snorkel near the shore.
On my curious walk around the island, I discovered a military bunker sunk knee-deep in white bits of corals teeming with hundreds of hermit crabs scurrying for shade.
Even the hermit crabs know who the enemy is, I thought. On an island like Pag-Asa, there is no real enemy but the sun, the powdery sand and the balmy wind.