April 10, 2012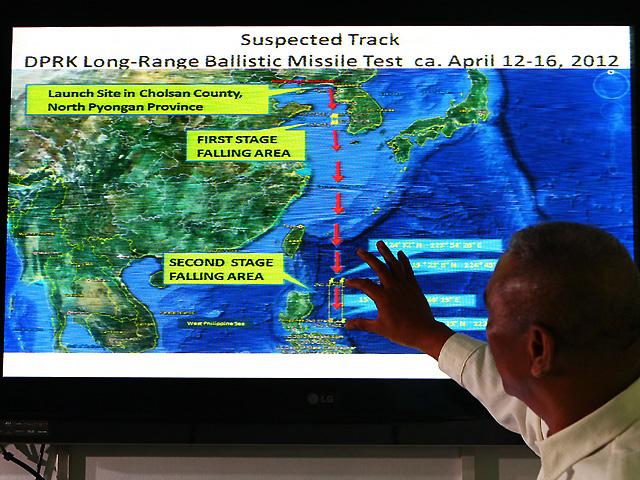 Asian airlines plans to change their flight paths for several routes heading to and from Japan and Korea to avoid a rocket North Korea is expected to launch anytime between 13th and 16th of April.

About 20 flights including Philippine Airlines, Cebu Pacific, All Nippon Airways, Japan Airlines, Korean Airlines, Garuda Indonesia and Delta Airlines will be rerouted between Thursday and Monday, when North Korea says it will launch a satellite.

Philippine Airlines said Monday that a dozen of its flights from the United States, Japan and South Korea will fly safely away from the rocket's possible path.

Affected flights are PR 105, Guam- Manila; PR 105, San Francisco-Manila; PR 103, Los Angeles-Manila; PR 107, Vancouver-Manila; PR 431, Narita-Manila; PR 407, Kansai-Manila; PR 437, Nagoya-Manila; PR 465, Incheon-Manila, PR 434, Cebu-Narita; PR 111, Guam-Manila; and PR 425, Manila-Fukuoka.

Japan Airlines and All Nippon Airways are also changing flight paths on routes connecting Tokyo to Manila, Jakarta and Singapore. Domestic flights will not be affected.

JAL said that it has four affected flights on the expected rocket launch dates. Airline official Norio Higashimine said each flight will carry more fuel in case of an unexpected route change.

ANA is making similar route changes on five flights.

Cebu Pacific also announced yesterday that their flights from Manila to Osaka, Japan, and back will be taking a different flight path from April 12 to16 based on the flight restrictions released last week by the Civil Aviation Authority of the Philippines.

North Korea says it is launching a satellite between Thursday and April 16, depending on weather. It says the satellite will observe crops and natural resources and denies suspicions that the launch is intended to test long-range missile technology.
North Korea maintains that the launch is a scientific achievement intended to improve the nation's faltering economy by providing detailed surveys of the countryside.
"Our country has the right and also the obligation to develop satellites and launching vehicles," Jang Myong Jin, general manager of the launch facility, said during a tour, citing the U.N. space treaty. "No matter what others say, we are doing this for peaceful purposes."
On Sunday, reporters were taken by train past desolate fields and sleepy farming hamlets to North Korea's new launch pad in Tongchang-ri in North Phyongan province, about 50 kilometers (35 miles) south of the border town of Sinuiju along North Korea's west coast.
The satellite is designed to send back images and information that will be used for weather forecasts as well as surveys of North Korea's natural resources, Jang said. He said a western launch was chosen to avoid showering neighboring nations with debris. He said two previous satellites also named Kwangmyongsong, or Bright Shining Star, were experimental, but the third will be operational.
Due to its limited capabilities to shoot down Pyongyang's rocket once it enters the country's airspace, the Philippine government will implement some restrictions, including a no-fly zone in affected areas, to minimize its impact.
Philippine officials have declared a no-fly zone and urged ships and fishing boats to avoid northeastern territorial waters where rocket debris may fall.
The restrictions will cover areas located east of Northern Luzon, particularly Sta. Ana in Cagayan province.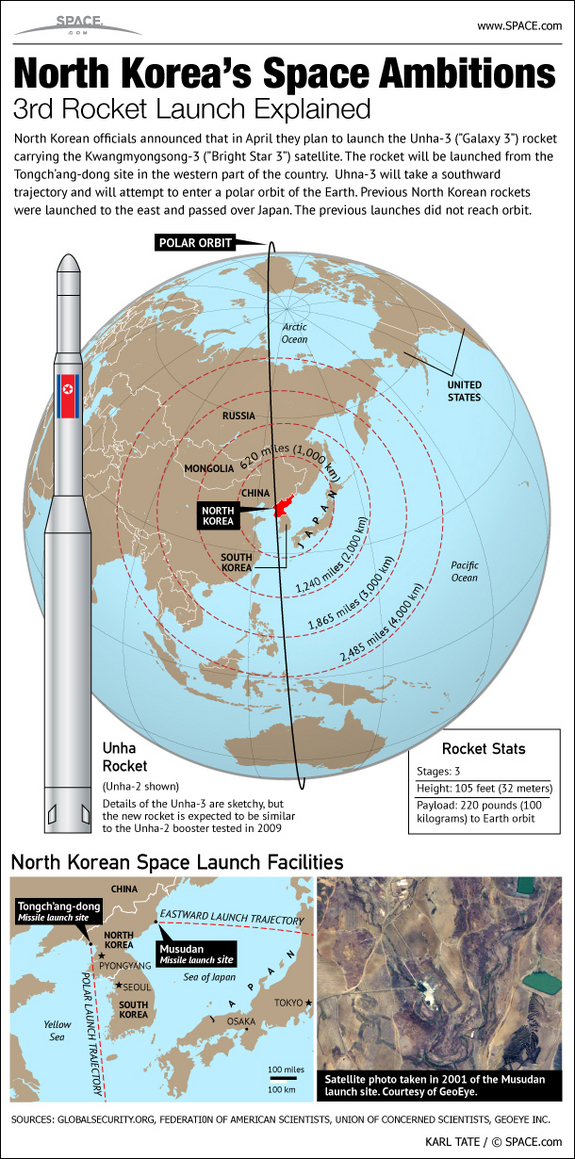 Source:
SPACE.com: All about our solar system, outer space and exploration