April 19, 2012
Singapore - Singapore Airlines subsidiary and low cost carrier Tiger Airways has announced plans to increase its stake in Southeast Asian Airlines (SEAir) Monday, April 16, as its foreign partner.
In a disclosure to the Singapore Stock Exchange, the carrier said it would amend the 2011 term sheet to hike Tiger Airways Holdings Ltd.'s stake in Seair from 32.5 percent to 40 percent, equivalent to US$7 million.
The disclosure said that the 2 parties have revised their term sheet, which was originally signed in February 2011.Tiger purchased a 32.5-percent stake in SEAir for $6 million. The additional 7.5-percent stake is worth $7 million, it said.
"The revised term sheet is to replace the first term sheet that was signed on February 24, 2011. The parties will now proceed to finalize the definitive sale and purchase agreement for the stake," the airline said.
SEAir is the 5th largest airline in the Philippines dominated by giants Philippine Airlines (PAL), Cebu Pacific, AirPhil Express, and Zest Air. Spirit of Manila and Air Asia Philippines are the bottom two.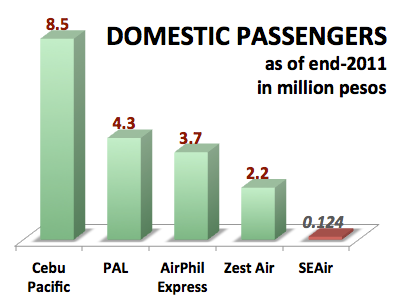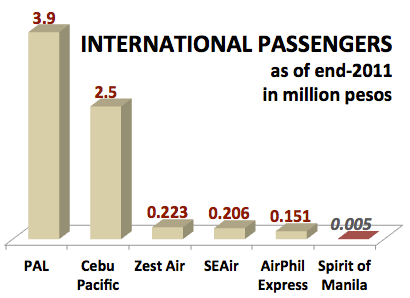 SEAir operates a pair of Airbus A320's and 4 Dornier 328's operating between Manila and Boracay gateway, Caticlan, and other feeder points, as well as flights from Manila-Clark to Hong Kong, Macau and Singapore.It has rights to fly Manila to Cebu and Davao and an application to fly 3 Malaysian destinations – Kuala Lumpur, Kuching and Kota Kinabalu from its hub in Clark.
--with reports from Rappler