As Boeing Offer Crumbles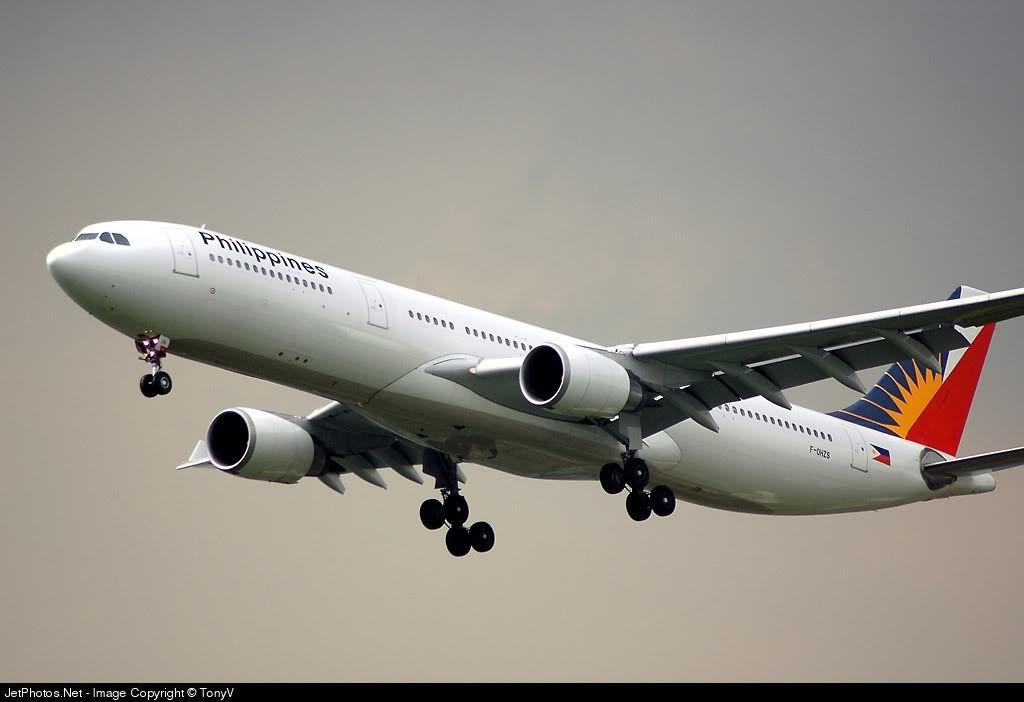 August 28, 2012
Philippine Airlines announced orders for 10 new generation Airbus A330-300, 10 new generation Airbus 321 neo jets, and 34 Airbus 321 in a deal valued at US $7 billion, Ramon Ang, President of Philippine Airlines said in a press briefing today.
"The aim is to purchase 100 new aircraft in total", PAL president Ramon Ang said. Ten new aircraft has been delivered to the airline with the latest addition being the Boeing 777-300ER. Another one is set for arrival in November and 2 more 777 will join the fleet in 2013.


The 54 aircraft orders are part of the first phase of a multi-year refleeting and modernization plans, which involve the purchase of up to 100 new planes.

"We still have about 46 aircraft to go, we have the option about whichever types of aircraft to go. The capacity of the initial 54 aircraft is already more than what Philippine Airlines and Air Philippines today's capacity" said Ang.


Another deal for twenty long range wide body jets are expected to be announce soon with both Airbus and Boeing tightly on a race between Triple Seven and Three Fifty.

PAL is currently looking at are the 777-300 ER and the upcoming 777-X as well as the Airbus 350-900 and 350-1000 programme.

"Our intention is to buy up to 100 aircraft, 26 of that will be long range wide body," Ramon Ang said.


The new generation 240-tonne A330-300 recently announced at the 2012 Farnborough Airshow will start delivery next year as Boeing failed to sell its latest plane, the Boeing 787 series planes due to delivery issues with the aircraft manufacturer.

PAL has been looking closely at the Boeing 787-900 which they intend to buy rather than lease but suffered setbacks on its waiting time. Boeing also failed to win orders for its Boeing 737-900 planes as Airbus jockeyed its position to convince PAL to buy its narrow-body jets instead.
A source inside the airline disclosed that Airbus secured delivery slots in 2013 for PAL and that spells a huge difference. Consequently, Ang announced the first delivery to be done in January 2013 consisting of 4 A330s and 6 A321s.
"We are extremely pleased that PAL has placed its confidence in our aircraft to meet its future requirements," said John Leahy, chief operating officer, Customers, Airbus.

"This announcement demonstrates once again the popularity of both the A320 Family and the A330, which remain leaders in their size categories in terms of operating economics, reliability and passenger comfort." says Leahy.
Airbus said the A320neo Family incorporates latest-generation engines and large wingtip device called the"Sharklet" to deliver 15 percent fuel savings as compared to its old model.

Philippine Airlines today inked with Airbus the biggest aircraft deal in Philippine history involving a firm order for more than 50 single-aisle and wide-body jets, with a list price of approximately US$7 billion. Photo shows PAL and Airbus officials during the signing ceremony at Century Park Hotel, from left, PAL vice chairman and treasurer Harry C. Tan, PAL Chairman Dr. Lucio C. Tan, Airbus Senior VP for Asia Jean Francois Laval and PAL President Ramon S. Ang.
Ang said that both Airbus and Boeing was in a tight contest until delivery schedule was laid in the table. The PAL CEO expects delivery of the airline's new order to be completed in three years with the new generation A330 joining next year.
The A321-200 jets are expected to join the fleet of Airphil Express also starting in the second half of 2013 for trunk-line upgrade and regional destinations as Manila Airport closes airport slots for new aircraft. The A321 neo for PAL is expected for delivery in 2016. Engine selections for the aircraft is heavily favored on CFM International LEAP-X although have not been announced.
Meanwhile, the new A330-300 will wear PAL colors to fly to "Hong Kong, Australia, Japan, Singapore, Thailand, The Middle East and India.
The carrier will start retiring its old Airbus wide bodies starting next year and replace them with a new fleet to compete more effectively on the long-haul markets.
Listed PAL Holdings Inc.recently approved a capital increase that would allow it to issue new shares to raise 17 billion Philippine pesos ($403 million) for fleet acquisition. It re­ported a com­pre­hen­sive net in­come of P489.2 mil­lion. To­tal rev­enues for the first quar­ter of the cur­rent fis­cal year amounted to P20.8 bil­lion or 5.8 per­cent higher than last year's P19.6 bil­lion.