Clark Not Solution For MNL Congestion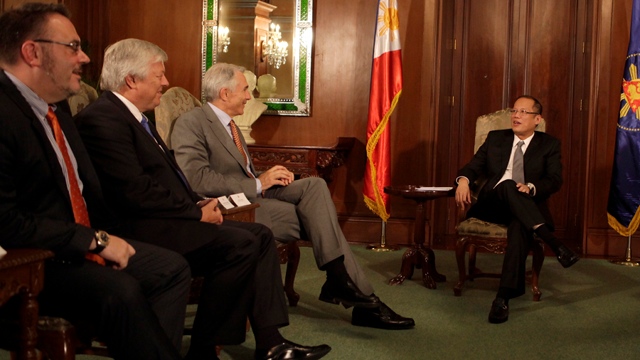 President Aquino converses with International Air Transport Association (IATA) director general and chief executive officer Tony Tyler during a courtesy call at the Music Room in Malacañang Palace on September 27, 2012.

Photo courtesy of Malacañang Photo Bureau

.
September 28, 2012
International Air Transport Association (IATA) representing 240 airlines around the world says it wants the Philippine Government to reconsider its plan to develop Clark International Airport as the Philippines' main gateway due to accessibility issues.
IATA Chief Executive Officer and Director General Tony Tyler from Cathay Pacific Airlines, said Clark is not a long-term solution to the country's capacity shortage.
"If anything, the government's plan to move the Ninoy Aquino International Airport (Naia) 100 kilometers away from the metropolis would only make traveling more inconvenient to passengers," the Association representative said.
"In my view, Clark is not the solution. It's too far away from Manila and it's in Manila where people want to go" Tyler adds.
"The state of air transport infrastructure in Manila is nothing short of a travesty," he said, adding that this is holding back the development of the Philippines.
"The Philippines also deserves better airport infrastructure. Arriving at Terminal 1 yesterday (September 26) brought a very strong sense of deja-vu. It was being constructed when I worked here in 1979. It has not changed much since that time. For me that brought back some fond memories. But for arriving tourists and business people it is a memorable welcome – and mostly for the wrong reasons," he shared.
"It is a congested and chaotic experience," he said.
He cited the World Economic Forum's Travel and Tourism Competitiveness Index, which ranks the Philippines 112 out of 139 countries for the quality of its air transport infrastructure.
"The only Asian countries to rank lower are Nepal, Bangladesh and Mongolia," he stressed.
SUGGESTIONS
IATA's view support recent suggestions by flag carrier Philippine Airlines (PAL), an IATA member, for the construction of a new airport north of Metro Manila.
PAL President Ramon S. Ang earlier said Clark was too far from Manila to be a viable option to replace NAIA.
Tyler said the planned construction of a high-speed rail line that would go to to Clark in 45 minutes would be a costly experiment that would most likely fail.
Meanwhile, IATA will suggest to the government to make IATA Operational Safety Audit (IOSA) and the IATA Safety Audit for Ground Operations (ISAGO) requirements to operate in the country, without any cost for the government.
Tyler noted IATA airlines' safety performance are 52% better than other airlines.
"IOSA makes a positive difference. IATA does not produce banned lists or rankings," he said,
"In the interim period we need to maximize the potential of the current facilities — both the terminal building and airside. The implementation of the IATA Worldwide Slot Guidelines is now complete. And we are eager to work with the authorities on further solutions."
He also mentioned the upgrade in air traffic control system at NAIA. "We need to unfreeze a major upgrade of the air traffic control system which is badly needed."
He urged the government to prioritize aviation infrastructure. "Failure to make appropriate investments in air transport is leaving the Philippines behind in the Asian economic growth story."
"Look around the region. In the last 15 or so years we have seen whole new airports open in Hong Kong, Nagoya, Seoul, Kuala Lumpur, Shanghai, Guangzhou and Bangkok. These countries place aviation connectivity as a core component of their economic strategy. And they have invested in the infrastructure to support the air transport links. And they are reaping the economic benefits," he said.
"I will be urging the President to personally intervene to sort this out. IATA certainly stands ready and willing to help. IATA has been providing support to improve the safety and efficiency of the air traffic management through observation programs of air traffic control, training for Civil Aviation Authority of the Philippines personnel and development of procedures to improve operational efficiency. We have also facilitated working groups to identify airport safety hotspots and review ATC procedures," he said.