May 26, 2013
The Republic of the Philippines intends to buy three frames of Airbus Military CN-295 planes manufactured in Indonesia for the Philippine Air Force (PAF), according to Indonesia Vice Defense Minister Gen. Sjafrie Shamsuddien who was in Manila Friday.

The Indonesian Official said that the multirole aircraft build by Indonesian Aerospace (PT. Dirgantara Indonesia or PTDI) will be used by ASEAN (Association of Southeast Asia Nations) for common defense and rescue.

"We are promoting the use of a common defense system among the Asean countries and the CN-295 perfectly fits this objective," Shamsuddien said in a statement.

Pio Lorenzo Batino, Defense Undersecretary for Legal and Legislative Affairs and Strategic Concerns said they are finalizing the procurement of the said aircraft worth USD28 million each through Government-to-Government transaction to expedite bid and minimize costs.

Batino said one of the aircraft is expected to go to the navy to be fitted for long-range reconnaissance and anti-submarine warfare.

Airbus Military and PTDI promoted the transport aircraft in the ASEAN region as it makes its first stop of the demonstration tour flights in the Philippines before it goes to six other ASEAN countries – Brunei, Vietnam, Myanmar, Thailand and Malaysia.

Sjamsuddien said the common use of the same aircraft type in the Asean region would strengthen cooperation among members while significantly reducing the operational and maintenance cost of the aircraft.

The Indonesian Air Force is willing to give three manufacturing slots to the Philippine Air Force says Sjamsuddien for early delivery.

The Indonesia Air Force currently has two CN295s in its inventory out of the nine units ordered from Airbus Military-PTDI. By 2015, all of the nine units is expected be in service in Indonesia.

The CN-295 is optimally suited for the wide range of humanitarian and defence tasks that ASEAN Governments need to cover according to Airbus.

Airbus Military and PTDI opened up assembly plants in Bandung, Indonesia to develop this type of aircraft together with two others,the CN235 and the NC212i,an upgraded version of the C212 launched in November 2012, both of which are also being offered to the Philippines.

The C-295 is in service with the Armed Forces of 15 countries. As of March 31, 2013, 121 frames have been ordered world-wide from Airbus Military and currently almost 100 are in operation with countries such as Algeria, Brazil, Chile, Colombia, Czech Republic, Egypt, Finland, Ghana, Jordan, Kazakhstan, Mexico, Poland, Portugal and Spain.

The Airbus Military CN295 first delivered in 2001 is a new generation, highly versatile tactical airlifter with remarkable short take-off & landing (STOL) performance from unprepared short, soft and rough airstrips. It is powered by two Pratt & Whitney Canada PW127G turboprop engines with low fuel consumption and long endurance flight time of up to eleven hours before refueling.

The transport aircraft is able to carry up to nine tonnes of payload or up to 71 personnel, at a maximum cruise speed of 260 kt /480 km/h. It is fitted with a retractable landing gear and a pressurised cabin with cruise at altitudes up to 25,000 ft, while also performing low level flight characteristics.

The CN295 is a developed version of the well-known CN235, offering greater capacity and range.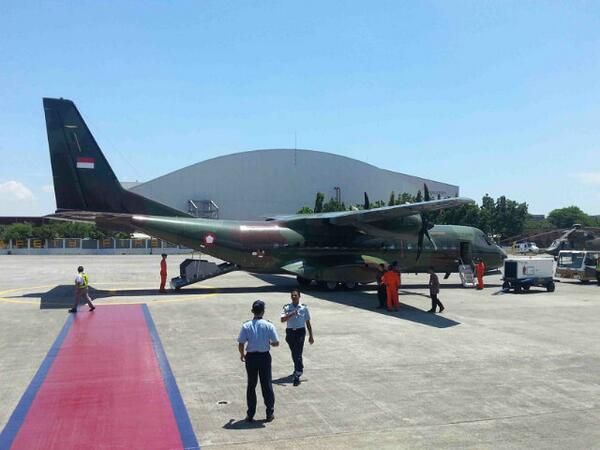 Defense Undersecretary Pio Lorenzo Batino (left) and Indonesian Vice Minister of Defense Sjafrie Sjamsoeddin, walk around a CN-295 military transport aircraft prior to a demonstration flight