DIA Closes Airport, cancels flights until tomorrow
Cebu Pacific sanities story, blames weather, airport blackout

Passengers advised not to speak out broke out real story instead

Cause of engine explosion unknown

All flights diverted to GES
What really happen in Davao?
June 2, 2013
A Cebu Pacific Airbus 320-200 plane (RP-C3266, CN: 4870) from Manila with flight number 5J 971 carrying 165 passengers crash landed tonight at Bangoy Internatioanl Airport after experiencing turbulence and heavy rain on final landing.

There were no casualties or injuries reported.

Civil Aviation Authority of the Philippines (CAAP) Air Accident Investigators are rushing to the crash site to determine cause of the crash.
Initial reports disclosed that the aircraft was attempting to land in heavy rains.

A passenger said that one of its engines exploded causing the aircraft to lose altitude on landing.

Jeffrey Wong, one of the aircraft's 165 passengers, said he saw their aircraft's engine burning seconds before it landed.

"I was at the right side of the plane, and nakita ko pumutok 'yung engine. Hindi talaga maganda ang pagka-landing," Wong said in a news report from GMA Davao.

He added that all passengers were only asked to disembark the aircraft 30 minutes after he saw the engine burning.

"Wala silang sinabi sa amin kung ano ang nangyayari," he said.

Jun Narciso, another Davao-bound passenger narrated that the engine was already on fire before aircraft touches down runway.

"The landing was very sudden and the pilot immediately braked. The pilot also immediately turned off the plane's engine," Narciso said in an interview by Rappler.


SPO1 Frelyn Delfin told ABS-CBN that the plane already sounded differently before the rough landing.

Cebu Pacific maintained that 5J 971 reportedly lost control after the runway light shut down temporarily while it was negotiating final landing at around 7 PM. The temporary blackout caused it to skid off to the left of runway 23.

"All 165 passengers have been safely shuttled to the airport terminal and their needs are being taken care of," the airline company said.

Davao Airport manager Frederico San Felix in an interview by ABS-CBN contradicted the airline's claim of runway blackout saying runway lights in Davao Airport were in full intensity during aircraft's landing and there was no temporary blackout of lights in the runway as claimed by the airline.

"We cannot give clearance to land until cleared. All runway systems were normal and the runway lights were in full intensity," San Felix said.

CRF vehicle was also prompt at the scene but there were few ambulances and no transport vehicles for the passengers to the terminal that time and it was raining very hard so they advice pilot to keep passenger inside while waiting for the transport vehicles to ferry them to the terminal.

Passengers said there were poor response from the airport authorities and the airline company who appeared to be shock from what just happen.

"The rescue team only arrived 15 minutes after the incident," Narciso said.

Narciso added that the cabin crew refused to open the plane's door and failed to explain to the passenger what was happening.

"After 15 minutes, the pilot went out of the cockpit and explained that the problem was caused by the plane's wiper," Narciso narrated.

Other passengers claimed that the responding units were not prepared and lack proper equipment.

Most of the passengers had to walk almost a kilometer just to reach the arrival section of the airport without any personnel from Cebu Pacific offering assistance or even comfort, one passenger commented.


Davao international airport is expected to be close for traffic until tomorrow night. CAAP said three flights were diverted to Cebu and Manila. Ten flights were canceled tonight with possible flight cancellations of all flights tomorrow.

Philippine Airlines and Cebu Pacific has open General Santos Airport for diversion of their affected flights.

Philippine Airlines in an advisory is offering passengers stranded in Davao a chance to go to Manila on Monday afternoon via a flight from General Santos City. PAL said it has upgraded its 4 p.m. General Santos - Manila flight to a Boeing 747-400 in order to accommodate passengers who are stranded in Davao and willing to be re-routed to General Santos.

San Felix said in a press briefing that Davao airport is expected to have "normal" operations by 8 p.m. Tuesday after the aircraft has been removed from the side of the runway.

The aircraft, he said, will have to be lifted up and afterwards be put on a steel plate before it can be removed from the field.


Images courtesy of Jeff Sy
Eyewitness account of
Nino Ruel Alinsub
6:55pm
One thing I really noticed was the speed when we approached the runway. I am a frequent traveler, and this is my 11th plane ride this year alone. We were really going in fast! I did not see the flaps moving even a bit when we were approaching the runway. Based on my experience it should have initially moved as we go nearer to subsequently decrease our airspeed but there was no movement at all. I was shocked when I looked out the window and we were that close to the ground at that speed!


When we hit the ground it felt like a bowling ball hitting the floor. It was a really hard landing. Right on impact the flaps fully opened at once and the wheel was screeching like crazy. From the sound of it, the wheels were not turning at all as the pilot slammed the brakes to the floor hoping for a complete stop.


This caused a lot of commotion from the passengers as we all lunged forward. I can hear all the hand carried baggage rumble to the front of the aircraft. I can just remember looking at my wife on my right and holding her hand and when I saw her in the emergency landing position, I just held on to my 5-yr old son tightly bracing for impact. I can see the family sitting adjacent to us doing the same and protecting their month-old baby.


At the back of my mind I was thinking this is it! I was waiting for something to blow up... the plane veered heavily to the right the sound of metal dragged on the ground was something you won't forget pretty soon and then I heard a pop from underneath us, probably the wheels breaking off or going aground, just before the plane took a front nose-dive on the grass…luckily when the airplane stopped it didn't happen.


6:57pm.
The scene from inside the cabin was like a scene taken directly from a Hollywood crash movie flick. It was eerily dark with only the emergency exit lights on. We could hear the sound of the rain and wind gushing outside, and the loud cries of babies on board the plane. Nobody talked for a few seconds until my wife shouted "OPEN the doors" then people suddenly broke their silence. The smoke inside the cabin was enough to stir panic among the passengers reeling to get out of the plain. Yet we were instructed by the cabin crew to stay put, as they would wait for further instructions from the captain.


What? Really? You gonna wait for this freakin' plane to blow while we were still inside? The initial responses from the passengers were a total mayhem. Everyone wants out. People were crying, some were trying to use their mobile phones to contact their loved ones outside, which I just realized could have been disastrous as it could ignite a flame that could blow us all off to the heavens.


1 min, 2mins, 5mins gone by and we are left to ourselves trying to figure out what to do next. Some members of the cabin crew were crying as well as they try their best to calm the passengers down. No ambulance, no fire trucks and no help from outside on the first few minutes of the crash. 23minutes after and with only smoky air to breath, not only oxygen, but patience, was running dangerously low as well.


It took the courage of one person, whom we only know as Captain Bok from the Philippine Navy, to stand up calm everyone down. He knew what he was doing and he was in control when even the cabin crew looked like they were really at a lost on what to do. Capt. Bok gave clear instructions for everyone to sit down so that we can leave row by row to prevent the plane from tilting over. He was the clear definition of a "guiding voice".


In the midst of high levels of adrenaline rush, the heroes in all of us onboard sufficed as every man in the plane urged the elderly and those who have children to go out first, not minding the dangers that await us should the plane catch fire and blows to pieces. Amidst the chaos, it was elderly and children first. Classic human nature at its best.


I saw my son and my wife made it out safely from the window and that was enough to draw a smile on my face and my heart. Thank God they are safe. Now I have to save myself as well.


7:45pm.
When I finally got out of the plane I let out a big sigh of relief. I looked at the plane for the first time and saw the huge crack on one of the engine turbines. It was just then that I realized how precious life is and how someone from above just gave us a second serving of life. It was a brief 10 seconds of my life...but it could easily have been the last.


7:50pm.
There were only 2 vehicles that ferried the passengers from the grounds to the terminal. One was a private van most probably owned by somebody working on the premises, and another ambulance. The passengers are left out standing in the rain waiting for a ride. From the moment of impact, it took more than 5 minutes for the fire fighters to reach the scene. There were no medical first responders; in fact there were no one else. I can just imagine what would've happened to us if the plane did blow up and there were serious injuries on site. It would have been a mess.


8:10pm.
All the passengers are now safe at the baggage conveyor section, eagerly awaiting guidance or any support from the Cebu Pacific management. But lo and behold, again there was no one to face us. Wow, in the movies you could see an outpouring of support for people who have just been to such traumatic experiences. But for us…no food, no warming blankets for those who were dripping wet from the rain, no drinks, no nothing! Not even the sight of the cabin crew consoling passengers. There were even no seats for us to rest our shaking bodies so most people just sat on the conveyor itself. And then I remembered, yes this is not Hollywood.


8:30pm.
One employee from CebPac announced that we should not worry, as our baggage will be delivered door to door for compensation. This however back-fired since all passengers are weary of their hand-carried items left at the plain during the emergency exit that do not have any form of tags in them. It looked like some of the passengers were ready to pounce on the little fella.


9:00pm
we were all led to Gate no. 2 where we settled down and talked with CebPac's management about the ordeal. Those who are from Davao were given some money for Taxi Fares, while those with connecting flights were offered hotels and meals. This was also the place where the hand-carried items were released to the passengers. We were also given juice drinks and a bottle of water during this time but it wasn't enough to quench the anger of some of the passengers who are clearly dismayed with the absence of medical responders more than two hours after the incident. There were 3 passengers that needed help; one was an older woman whose blood pressure shoots up. The other one was a young girl on her twenties that is clearly suffering from panic attacks, and a pregnant lady that complains of severe abdominal pain… and yet there was no help until this time.


Luckily my cousin, Carlo Dela Cruz is a nurse working in Marbel Doctors Hospital, and another passenger, were capable of dealing with the situation. So just like what we did on board the aircraft, we took it upon ourselves to help each other. The two gallant nurses took care of the affected passenger until help arrived 3 hours after the incident in the form of one woman who have stethoscope and a BP apparatus. Yep! you heard me right.
Eyewitness testimony of Andrew Posas Bautista
https://www.facebook.com/video/embed...51624583448048
https://www.facebook.com/video/embed...51624703898048
Eyewitness position inside the ill-fated aircraft. He said he heard a big bang in the engine before the plane landed. Lighting the plane is the CRF vehicle which responded promptly as the plane came to a complete stop. Earlier,Cebu Pacific blamed the weather for the unfortunate landing. Note on spoiler position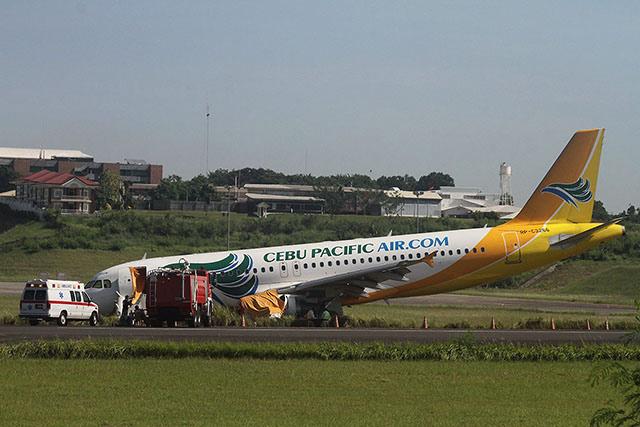 A DAY AFTER. Davao International Airport is expected to open back to traffic around 8 pm of June 3.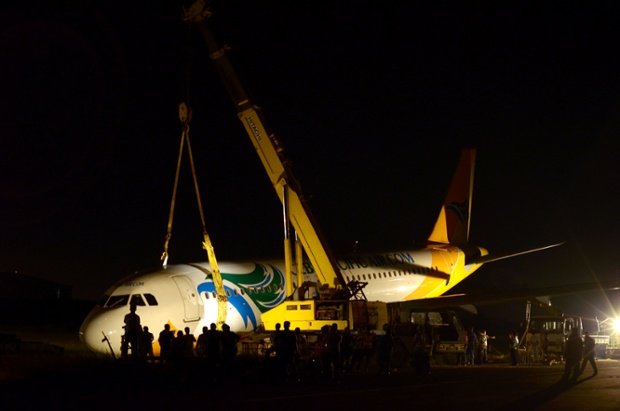 Cebu Pacific A320 being removed from the runway around 5 pm of June 5 . The airport is expected to open at 8 pm