18 July 2014
By Kristine Angeli Sabillo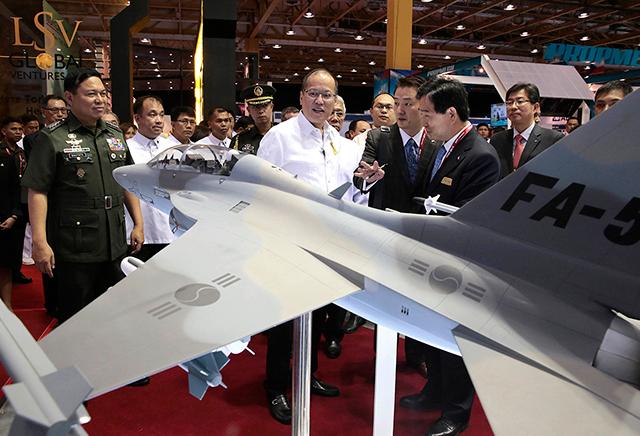 President Benigno S. Aquino III looks at a model of a South Korean-made FA-50 Light Combat Aircraft on display during the Asian Defense, Security, and Crisis Management Exhibition and Conference (ADAS) at the World Trade Center in Pasay City on Thursday, July 17. With him are Defense Secretary Voltaire Gazmin and AFP chief Gen. Emmanuel Bautista.

Gil Nartea
Disaster response and internal defense. Those are the only reasons why the Philippines is beefing up its military, President Benigno Aquino III said Thursday.
"Lest anyone accuse us of shifting to a more militaristic position, I must emphasize: Our efforts seek to modernize the capabilities of our security sector to address the needs in human disaster response arenas and for our own internal defense," Aquino said during the opening ceremony of the Asian Defense, Security and Crisis Management Exhibition 2014 (Adas 2014) at the World Trade Center in Pasay.
"None of these actions are meant to increase tensions in the region; rather, they are meant to address our domestic problems and issues," he added.
Aquino attended the defense and security conference amid territorial disputes among Southeast Asian countries and China in South China Sea.
During his speech, the President expressed concern for the equipment of the Armed Forces of the Philippines (AFP), which he said has "long been neglected."
"It reached a point where even lawless elements possessed superior equipment," he pointed out.
He added, "This is precisely why, from day one, we have done everything in our power to give the AFP the support they need to perform their duties to the fullest of their capabilities―and to make sure that the risks they take in the battlefield are reduced to a bare minimum."
Since Aquino became president, more than P40 billion has been allocated to modernize and upgrade military capabilities.
At one point in his speech, Aquino beamed at his accomplishments compared to the paltry allocation former President Gloria Macapagal-Arroyo gave.
"Compare this to the 26 billion that my predecessor released in a span of nearly ten years," he said.
"Most prominently, we have added two Hamilton Class Cutters to our fleet, namely the BRP Gregorio del Pilar and the BRP Ramon Alcaraz. We have also acquired eight Sokol Combat Utility Helicopters, three AW-109 naval helicopters, four refurbished UH-1 helicopters, and the BRP Tagbanua, the first locally-built landing craft utility ship, among many others," Aquino added.
He also announced that 50,629 M4 Caliber 5.56mm rifles is set to be distributed before the year ends.
Aquino said the "fair and transparent procurement process" allowed the government to save P1.2 billion in purchasing the rifles, allowing it to purchase another 12,657 units and "set aside a budget for succeeding rifle procurements."
"We are also looking forward to the arrival of two out of twelve FA-50 lead-in fighter trainer jets next year, with the others all arriving before 2017. Apart from these, we are expecting seventeen more refurbished UH-1 helicopters, eight more combat utility helicopters, two long-range patrol aircrafts, six close-air support aircrafts, two anti-submarine helicopters, two frigates, and three full missile capable multi-purpose attack crafts, along with other equipment that will strengthen the capacities of our armed forces," he added.