At What Price?
1 August 2014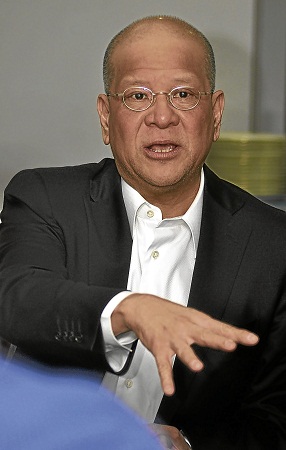 The alliance between the San Miguel conglomerate and Lucio Tan group in Philippine Airlines and its subsidiary PAL Express is over.
San Miguel Corporation (SMC) has confirmed that the Lucio Tan Group (LT Group) offered to buy out the 49% share of SMC in Philippine Airlines and its subsidiary PAL Express in a meeting held this morning.
PAL President and Chief Operating Officer Ramon S. Ang said after the meeting that the LT Group presented its buyout proposal to SMC.
"They're offering to buy us out. Talks are ongoing," San Miguel President Ramon Ang said.
The LT Group has been pooling funds to reimburse SMC expenditures with PAL which according to them translate to about US$375 million in equity investment plus about $400 million in advances.
The estimates from SMC however showed a price tag worth more than US$1 billion that would be reimburse by the LT Group to cover the U$500 million equity stake plus $750 million advances for the 65 aircraft orders.
In a separate disclosure report to the Philippine Stock Exchange (PSE), both San Miguel Corporation and PR Holdings announced that they would complete the transaction with the LT Group within the third quarter of this year, although it is not yet known whether the LT Group has matched the price presented by SMC.
The disclosure stated that talks between San Miguel Corp. President and Chief Operating Officer Ramon S. Ang and Chief Executive Officer Lucio C. Tan on the ownership of Philippine Airlines, Inc. (PAL) are moving smoothly and is expected to conclude pretty soon.
PAL Holdings also stated in a separate disclosure that the expected net profit of $30 million "has not been taken up in the Board or passed upon by the Audit Committee" in the valuation of the shares to be sold.
In April 2012, SMC's wholly-owned subsidiary San Miguel Equity Investments Inc. acquired a 49-percent equity interest in Trustmark Holdings Corp. for $500 million in exchange for management agreement. Trustmark owns 97.71 percent of the airline's parent firm PAL Holdings Inc., which in turn owns 84.67 percent of PAL through PR Holdings Inc.
SMC then embarked on massive re-fleeting program aimed at acquiring 100 new aircraft to replace its existing fleet. It has so far purchased 65 new aircraft consisting of new 135T A330-300's, A321-200, and A321NEO's, and made advances to the aircraft manufacturer close to a billion US dollars.
The acquisition of new aircraft is expected to save the airline as much as $400 million from fuel and maintenance costs per year as they retire old planes and operate new ones.