20 August 2014
The construction of Ninoy Aquino International Airport parallel runway may have to wait a little bit longer than expected after the Department of Transportation and Communication (DOTC) failed to contract out consultancy services for the planning and design of parallel runway 6-24 Left expected to decongest the country's main gateway.
The P67 million contract for the Ninoy Aquino International Airport (NAIA) Runway Optimization Project (ROP) expected to be done early next year failed to generate much interest among airport design consultants after two public bidding due to pricing concerns for such technical services.
"

The plan now is to enter into a negotiated contract to hire the consultant" says Secretary Joseph Abaya of the Transportation Department.

Consultancy services includes definition of airport capacity, including airspace, runway and taxiway movements,
simultaneous runway movements, flight separations, improvement of slot schedules, RNAV technology applications, and associated training manuals for Air Traffic Controllers (ATC).
The ROP will run for 12 months after the award of the service contract. Runway construction is expected to commence within 18 months from date of award.
DOTC said the parallel runway is supposed to be constructed next year to address the congestion problems of NAIA by 2017 while the mega airport is constructed at Sangley.
According to industry estimate, a single runway has a maximum of 44 Air Traffic Movements (ATMs) per hour, based on International Civil Aviation Organization (ICAO) recommended practices. NAIA was forced to capped this threshold at 42 per hour in accordance with ICAO guidelines.
The intersecting runway at NAIA however has a throughput capacity of 56 ATMs per hour
translating to a Maximum Throughput Capacity (MCTs) of about 36 million passengers. B

ut due to the intersecting nature of the runway deployment at that capacity is dangerous which justifies the construction of a parallel runway.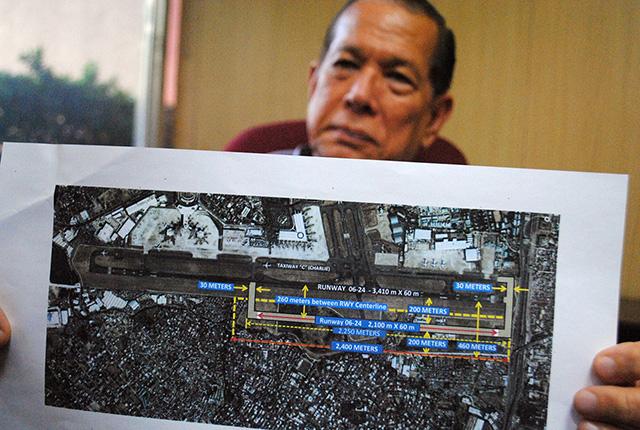 The Transport Department aims to improve runway usage from 42 to 60 ATMs per hour with the parallel runway configuration. The new runway should be able to accommodate as much as 30 ATM's of added capacity from the existing runway 6-24R.
This will translate to 4 new slots per hour that will be made available to foreign carriers wanting to expand in Manila but unable to mount due to capacity constraints. Construction of parallel runway 6-24 L would also pave the way for the closure of runway 13-31.
Ninoy Aquino International Airport handled almost 33 million in 2013. It is expected to breach 35 million by 2015.