To Be or Not To Be?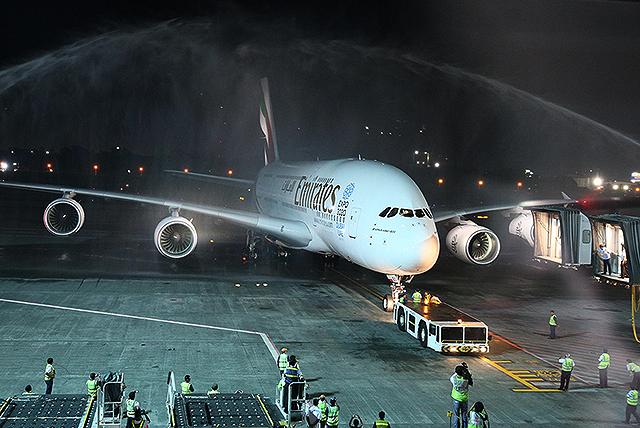 30 November 2014
Philippine carriers are up in arms against the Civil Aeronautics Board's (CAB) decision after the agency approved Emirates Airlines (UAE) petition to extend their temporary permit to mount additional daily frequency to Manila beyond November 26 pending negotiation of expanded air bilateral with the Gulf State next year.

Oppositors Cebu Pacific Air (CEB) and Philippine Airlines (PAL) explained the move as a "mockery" of government regulations, bypassing limits laid down by bilateral aviation agreements.

The local airlines said CAB has no authority to grant extra frequencies under Section 3 of Executive Order No. 29.

The Philippines and the United Arab Emirates is scheduled to meet next year to expand the Air Services Agreement (ASA) between the two States upon the request of Emirates.

The Philippine-based airlines said that CAB's decision to extend Emirates temporary rights beyond November 26 is tainted with abuse as it has no legal basis and justification to stand on other than the economic reasoning of Emirates.They said that Emirates this early has already been selling tickets until October 2015 which is not yet approve by the Board.

Emirates Airlines has used all its entitlements (14 times a week) to Manila and was begging CAB to grant them temporary permit to fly additional daily flight after the aviation regulator nullify earlier this year their code share agreements with PAL allowing them to mount the controversial third flight.

CAB allowed Emirates to operate additional seven frequencies between October 27 and November 26 despite objections from the Philippine carriers.

The local carriers objections started as early as October 13 when the CAB granted Emirates a 30-day extension through November 26 to operate the additional seven weekly flights "presumably by virtue of its authority to grant extra frequencies to any foreign carrier for a period of not more than 30 days." They said counting the further extension, CAB has granted Emirates a total extension of 60 days now.

"We believe that the grant of these unwarranted extra flights to Middle Eastern carriers distorts competition and undermines the investments of Philippine air carriers in building a truly competitive air route to the UAE," Philippine-based airlines said in a joint statement.

Cebu Pacific said that while they want to get the seven idle frequency not used by PAL they are not interested in talks expanding the ASA with the Gulf State stating that the current frequency is more than enough at this time.

"If Emirates truly wants to expand its service into the Philippines, it has every opportunity to put up new flights to Clark, Cebu or other Philippine international airports outside of Manila," their joint statement adds.

The current bilateral allows UAE airlines, Emirates Airlines or Etihad Airlines, to mount unlimited flights to Clark, Cebu, and Davao.

Emirates Airlines is applying for fourteen additional frequencies to Manila with the upcoming negotiations but PAL and CEB are not so keen in joining the talks as they are objecting to the proposal saying that it is beyond the traffic needs of the region.

"We look to CAB to work with the Philippine air carriers in growing the Philippine aviation industry and allow us to compete with foreign carriers in a level playing field," the local airlines said.

Meanwhile, industry sources disclosed that CAB may be forced to extend the third flight of Emirates beyond December 26 because the Civil Aviation Authority (CAAP) has not yet released the regulatory guidelines on the use of A380 plane at Ninoy Aquino International Airport.

Air Services between the Philippines and the United Arab Emirates are negotiated by frequency and not by number of seats, or size of aircraft. Therefore, Emirates can technically use the A380 to Manila.

While technical studies and reports were already submitted by Airbus to aviation regulators as to its viability, there was no approval yet from CAAP permitting A380 operations at Manila airport citing daytime congestion as one major unresolved issue.