11 November 2016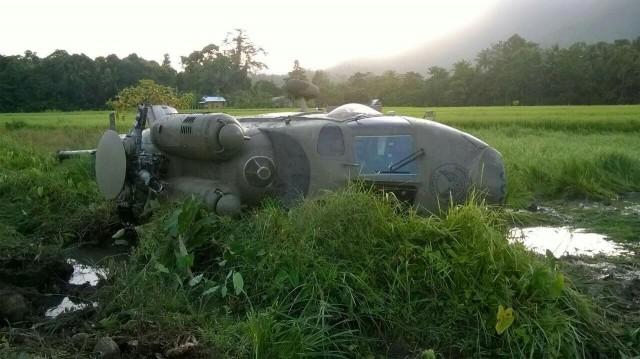 A Sokol helicopter (SN926) of the Philippine Air Force (PAF) carrying twelve passengers and crew crashed landed Tuesday afternoon at Sitio Sabang, Bgy Cabayugan, Puerto Princesa City due to operative malfunction of one of its engine prompting the pilots, Major Michael R Yraolo and 1Lt Gino Glenn Solano, to perform emergency landing maneuvers.

No one was seriously hurt but four passengers, mostly government officials, suffered minor injuries when the helicopter tilted sideways upon landing.

The passengers were PNP Directorate for Operations head Chief Supt. Camilo Cascolan, Region 4B director Chief Supt Wilben Mayor, Deputy DO Chief Supt. Nestor Bergonia, and Chief Supt. Amador Corpus from the Directorial Staff.

Also on board were helicopter crew Sgt Dunhill R Guanzon and A1C Mark Phol T Masangkay.

The cause of the engine failure is still being investigated. Meanwhile, remaining six other Sokol helicopters are grounded pending results of the crash investigation.