5 January 2017
Philippine Airlines (PAL) has announced Thursday that it was named the official airline partner of the 65th edition of the Miss Universe beauty pageant to be held in Manila this month.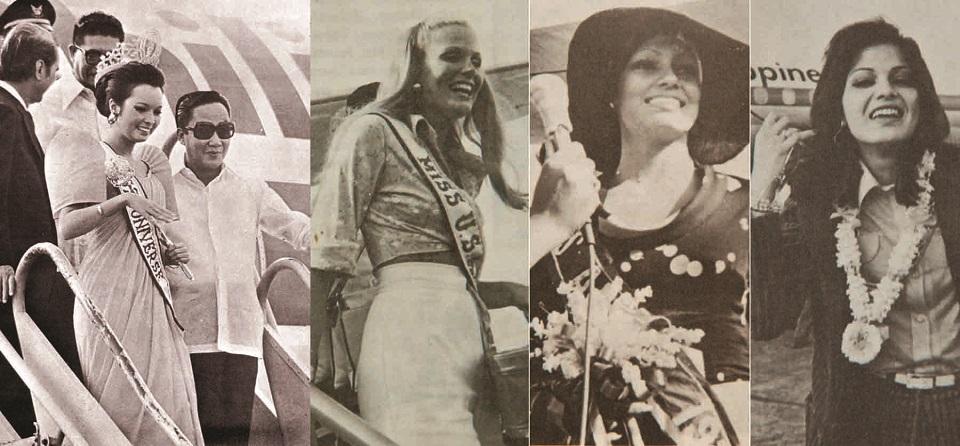 Margie Moran (above, left) arrives in Manila after her Miss Universe win in 1973. She flew home on PAL. The national carrier has been flying Miss Universe beauties for decades, including (above, right) candidates to the 1974 pageant, held in Manila.
It will be the third time for PAL as it was the official carrier of the 1994 Miss Universe and a sponsor of the 1974 edition, both held in the Philippines. The airline also flew the country's two Miss Universe titlists Gloria Diaz and Margie Moran when they won in 1969 and 1973, respectively.
PAL said it will fly the 85 pageant candidates to several tourists spots in the country, including Cebu, Siargao, Davao, Vigan, Baguio, Batanes and Boracay.
Aside from some candidates, all members of the Miss Universe Organization committee and working staff will be flown to Manila by PAL.
Last month, the carrier flew Miss Universe Organization president Paula Shugart and nine candidates (representing Japan, Australia, China, Korea, Thailand, USA, New Zealand, Indonesia and Vietnam) from Manila and to Siargao for the pageant's kick-off event.
PAL's association with beauty queens dates at least as far back as 1969, when it flew the country's first Miss Universe, 18-year-old Gloria Diaz, back to Manila after her triumph. It also did the same for the country's second winner, Margie Moran, in 1973. It was also the airline partner of the 1974 pageant, which was held in the Philippines.
The airline was again named the official carrier for the 1994 pageant, when the country hosted the Miss Universe competition for the second time.
2016 Miss Universe Pia Alonso Wurtzbach is concurrently a PAL brand ambassador. While the country's representative in the 65th edition of the pageant, Maxine Medina, is a daughter of PAL flight purser Maximo Guillermo Medina.