PAF Receives 2 Cessna 208B ISR
28 July 2017
The Philippines became a beneficiary of Two Cessna 208B Caravan EX aircraft (N320ZZ and N322ZZ) purchased by the U.S. Department of Defense in behalf of the Philippine Air Force (PAF) and modified to perform airborne intelligence, surveillance and reconnaissance missions.
The equipment was officially transferred yesterday , July 27 at Villamor Airbase to the Philippine government and deployed to the 300th Air Intelligence And Security Group of the Philippine Air Force.
The two aircraft were procured by the US government in early May 2016 under separate DoD contracts funded under section 2282 of the fiscal 2016 National Defense Authorization Act and the Counter-terrorism Partnerships Fund for the capacity-building of foreign military.
The two new aircraft, valued at ₱ 1.67 billion were delivered to the Philippine Air Force through the U.S. National Defense Authorization Act Building Partnership Capacity Program.
It is expected to be used in maritime or border security and counter-terrorism tasks that benefit the national security interests of the Philippines and its allies.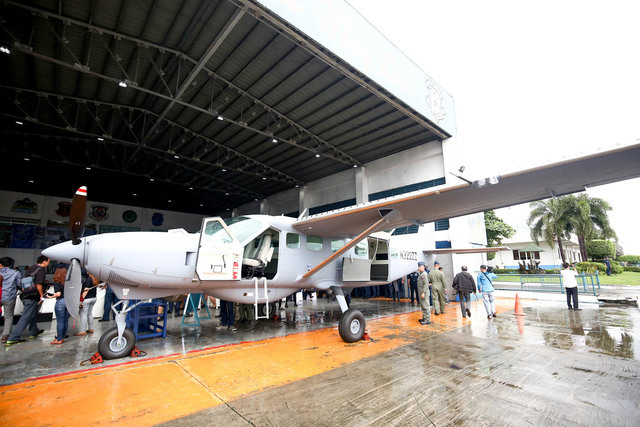 The Cessna 208Bs is two of six aircraft registered by the U.S. Air Force's Life Cycle Management Center at Wright-Patterson Air Force Base, Ohio, up for modifications. The other four were bound for Cameroon and Chad.
The six aircraft are fitted with the L3 WESCAM MX-15 high-definition imagining and electro-optical/infrared sensor for airborne full-motion video surveillance in a central housing. The sensor is integrated with an on-board airborne operator sensor console and will also have Harris ultrahigh/very-high frequency and high frequency radios for air-to ground and air-to air communications.
North American Surveillance Systems of Titusville, Florida, was awarded a $39.98 million contract for modification and integration of ISR capabilities into six Cessna 208B aircraft together with training and support services.
The aircraft were installed with extended-range fuel system designed by Weaver Aero International, for extra loiter time.
Currently,ISR capability has been provided by Lockheed Martin P-3 Orion aircraft from the U.S. Navy and Australia, together with Japanese TC-90 and U.S. UAVs over the battles in Marawi City.
The United States government has allocated more than ₱ 15 billion ($272 million) of grant funding to provide the AFP with up-to-date equipment and training in the last five years.
The two aircraft will be stationed at Zamboanga's Edwin Andrews Airbase for tactical deployments to Marawi by August 1.