But is the Philippines ready for upgrade?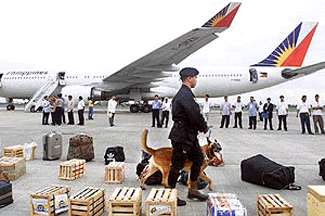 By Francis Earl A. Cueto

STAKEHOLDERS in the travel and tourism industry on Friday want to know if the Civil Aviation Authority (CAA) has made any move to restore US confidence in Philippine air carriers.
This developed after the United States' Federal Aviation Authority (FAA) included the country on the list of 21 countries under the restrictive Category 2.
Robert Lim Joseph, chairman emeritus of the National Association of Independent Travel Agencies (Naitas), said CAA's action is crucial because Category 2 restricts flights to the US, thus putting on hold any plan by Philippine air carriers to expand and modernize their fleet.
Rep. Monico Puentevella fast-tracked the creation of CAA on March 5, 2008, to replace the Air Transportation Office (ATO) following FAA's verdict that "the Philippines is an unsafe port of origin."
In downgrading the country in January last year from the higher safety and security rating in Category 1 to Category 2, the FAA cited "

failure to provide safety oversight of its air carrier operators in accordance with safety oversight standards set by International Civil Aviation Organization (ICAO)

," a United Nations organization
Joseph said Category 2 is very onerous, citing a provision that prevents airlines from changing an aircraft for a better one, notwithstanding that the replacement is made by a tested and trusted American company.
He said President Gloria Arroyo gave CAA a marching order to resolve the Category 2 problem within 90 days, but there has not been any development since the directive was issued a year ago.
"What has happened to CAA? What is the status of the safety upgrades?" Naitas wanted to know. "There is no update," Joseph said.
He said the bigger problem in not getting a higher safety rating is that Europe and other countries could follow the action of the US FAA, endangering further the growth of Philippine civil aviation.
He said one reason CAA has not made any major move to reinstate the Philippines to Category 1 might be due to its lack of representative from private stake-holders. Moreover, there are not enough knowledgeable people in the agency who can address and resolve the problem, he added.
"There should be somebody in the CAA board who understands air safety, security and airline operations," Joseph said.
He suggested that CAA should tap the private sector for experienced airline executives who can help with the necessary improvements that would remove the obstacles for the country's return to Category 1.
He said Congress could use its oversight function and find out how the law that created CAA is being implemented and what the agency is now doing to solve problems in civil aviation.