But Earns 3.3 Billion pesos in Revenues and spends 14 million for faith renewal
The Civil Aviation Authority of the Philippines (CAAP) denied that it had not spent a single centavo on the conduct of "values education" and "purpose-driven life" seminars for its employees but admitted that it had a P14.81 million plan to conduct a "Spiritual Advancement Values Education (SAVE)" program but the project has not yet been implemented.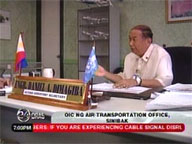 In a press briefing, Ruben Ciron, CAAP Director General who was a retired Philippine Air Force (PAF) General, said that they were still in the process of having the P14.81-million program approved by the CAAP board, headed by Transportation Secretary Leandro Mendoza who acts as its chairman before funds would be release.
Ciron defended that CAAP was only pursuing the values education program in compliance with a directive of President Gloria Arroyo to lead moral renewal in their respective institutions.
"What we have started is a continuing values education program pursuant to Administrative Order No. 255 issued by President Arroyo on January 30, 2009 directing the heads of the executive department to lead moral renewal in their agencies," Ciron said.
The agency already conducted values education seminars at the CAAP central office along MIAA Road in Pasay City and in eight major airports nationwide, but such seminar did not spend CAAP funds.
Ciron said the 2,000 employees that have attended the seminars were given free copies of the Bible donated by benefactors but refused to divulged who the sponsors were and who paid for the food and accommodation bills.
Inside source who does not want to be named however disclosed that the unnecessary and overpriced program was already in effect and has disbursed closed to 4 million pesos for the associated expenses which would have been spent for the training of aircraft check pilots and to satisfy the other requirements of the US FAA.
Contrary to CAAP's argument, there may not be available local talents for the vacant job but there are qualified and eligible foreign consultants who are applying but are not considered for unknown reasons. They are supposed to served as instructors and trainers to meet the agency's safety and security requirements but the office opted instead to appoint ex-Air Force Officers as consultant who haven't flown even an Airbus 320 yet has something to say how the pilots fly their plane. How wrong can that be says the insider.
The insider further said that 14 million pesos is enough to hire foreign consultants that applied for the job but not considered and would have expedited FAA deficiency. Even Philippine Airlines and Cebu Pacific hire expatriates to do the job not locally available.
Meanwhile, CAAP employees said the program only used up much of the agency's funds as well as employees' time when the agency was supposed to be focusing on the effort for the country to regain its Category I status with the United States' Federal Aviation Authority (FAA).