Video Courtesy GMANews.TV
Caticlan - Zest Air suffered another landing error today when its plane, an MA-60 aircraft of Xian Aircraft Company with registration number RP-C8992 suffered a tire-blowout on touchdown and consequently overshot Caticlan runway 06 at 7:43 this morning.

The Zest Air flight Z2-863 from Manila carried 54 passengers, one flight mechanic, and four crew. No one was reported hurt in the accident. No substantial damage was reported to the aircraft that might affect its fuselage integrity.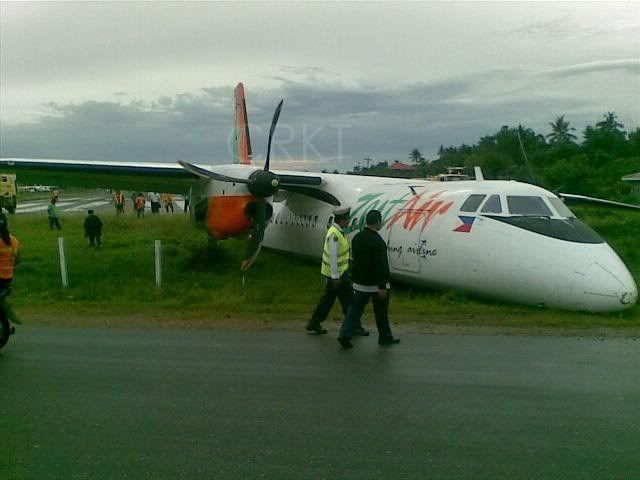 The Civil Aviation Authority of the Philippines (CAAP) closed the airport and suspended flights to Caticlan until 6 p.m. Thursday after the nose gear of the plane was stuck on the ditch at the end of the runway which make its removal difficult. Lifting equipments from the airline's maintenance department were ferried from Manila to Kalibo and brought to Caticlan later that day to remove the plane safely to the airports apron for inspection.
Philippine Airlines Express, Cebu Pacific and Zest Air diverted all their remaining flights (Manila-Caticlan-Manila) to Kalibo due to the airport's closure. Flights from Cebu were also diverted to Kalibo airport.
The plane is expected to fly back tomorrow for Manila after safety checks and CAAP accident investigation. It will be flown back to its manufacturer for repair and is expected to be return into service within 2 months time. All the MA-60 fleet of Zest Air are less than a year old.
It is the second time a Zest Air plane had a landing accident in Caticlan in six months. In January, a similar turboprop aircraft undershot the runaway, wounding at least three passengers. The cause of the accident was reported to be pilot error in crosswind landing but the investigation was not officially released to the public. The plane was written-off and replaced by its insurer.
The airline is however confident of the aircraft and its operational dynamics which prompted it to buy six more frames from AVIC's Xi'an Aircraft Industry Co. last month.