As CSC voids dismissal for want of authority
By Rainier Allan Ronda
February 15, 2010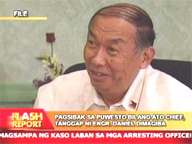 MANILA, Philippines - The Civil Service Commission has voided the dismissal last year of Civil Aviation Authority of the Philippines (CAAP) deputy director general for operations Daniel Dimagiba.
In a resolution issued last Feb. 8, the CSC ordered the reinstatement of Dimagiba, saying that CAAP director general Ruben Ciron did not have the authority to dismiss him from the service, saying that only the CAAP board of directors, headed by Department of Transportation and Communications (DOTC) Secretary Leandro Mendoza, could do so.
"Clearly, while it may be true that the director general, in this case, Ciron, is the duly recognized appointing authority of CAAP, his power of appointment does not extend, among others, to the position of deputy director general, which is held by appelant Dimagiba," the CSC said.
It will be recalled that Ciron had dismissed Dimagiba in May of Last year for his alleged involvement in a number of anomalies.
Dimagiba had fought his dismissal, saying that Ciron had pursued moves to oust him from the agency after he questioned Ciron's alleged questionable transactions and his appointment of fellow retired military generals and colonels, as well as fellow members in the Reformed the Armed Forces Movement, in the CAAP despite their lack of expertise and experience in civil aviation management.
It will be recalled that Ciron, a retired Philippine Air Force general and graduate of the Philippine Military Academy, had appointed fellow retired military officer, Col. Eduardo "Red" Kapunan, to replace Dimagiba.
It will be recalled that the CAAP was hurriedly formed in 2008 after the country's downgrade from Category I to Category II rating with the United States' Federal Aviation Authority (FAA) due to the country's non-compliance of international civil aviation standards.
The ATO was turned into an authority – the CAAP – to allow it to use its own revenue to fund the training
of check pilots and other technical personnel, as well as satisfy other requirements of the FAA and the International Civil Aviation Organization (ICAO) of a national civil aviation body.