Argues illegal dismissal
for fraudulent issuance of airline COC
By Rudy Santos
February 16, 2010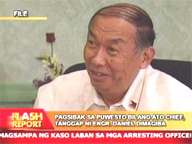 MANILA, Philippines - A training and licensing seminar at the Civil Aviation Authority of the Philippines was disrupted yesterday when a dismissed CAAP official tried to reinstate himself on the basis of a supposed decision by the Civil Service Commission.
Reports said Daniel Dimagiba, the dismissed CAAP deputy director-general, forcibly entered the CAAP with eight other persons and installed themselves at the training room of the Technical Center during lunch break.
CAAP security personnel politely advised Dimagiba's group to refrain from disrupting the ongoing session but the group allegedly refused to leave.
In a statement, CAAP Director General Ruben Ciron said Dimagiba remains officially dismissed until a supposed CSC decision reinstating him becomes final and executory. "Since the CAAP has 15 days to file an MR against the CSC resolution, Dimagiba cannot unilaterally assume his previous post nor engage in any official act," he said.
The CSC, in a decision dated Feb. 8, allegedly voided Dimagiba's dismissal from the service claiming that Ciron did not have authority to fire his subordinate since only the CAAP Board of Directors, headed by Transportation and Communications Secretary Leandro Mendoza, could do so. But Ciron said Dimagiba was dismissed on the strength of an order by the CAAP Board of Directors led by Mendoza.
The CAAP Board, in Resolution No. 09-005 dated Aug. 27, 2009, confirmed and ratified the authority of the (CAAP) director general to create the Special Hearing and Adjudication Board which heard administrative case 001-09 against Dimagiba "for grave misconduct on eight counts." The CAAP Board concurred with the following findings: guilt of the respondent (Dimagiba) on five counts of grave misconduct; dismissal of the three counts (of the same charge); penalty of dismissal with cancellation of eligibility with forfeiture of leave credits and retirement benefits and disqualification for reemployment in the government service without prejudice to criminal or civil liabilities.
The case against Dimagiba allegedly stemmed from a meeting at the European Union's Air Safety Committee in Brussels last Nov. 4, 2008. The agency called Ciron's attention regarding a dubious Carrier Operating Certificate issued to One Sky Aviation allegedly an air carrier in the Philippines, which turned out to be non-existent. Using its bogus certification, One Sky Aviation was allegedly able to enter and operate in Australia and other parts of the world.
A top-level investigation was initiated by the Australian government since the questionable certification poses a serious international security threat especially after the 9/11 terror attacks. It also undermined the relationship of CAAP with its Australian counterparts and the rest of the aviation community.
The bogus certificate was eventually found out to have been signed and certified by Dimagiba, without the mandatory Certificate of Public Convenience and Necessity (CPCN) issued by the Civil Aeronautics Board.