Prepares Singapore, Hong Kong and Macau
By Paolo G. Montecillo
Philippine Daily Inquirer
August 16, 2011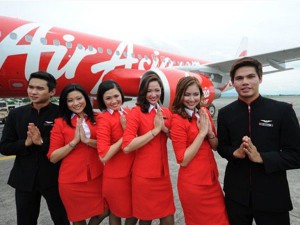 MANILA, Philippines—The local unit of Malaysia's AirAsia Berhad, dubbed as "mother of all budget airlines," officially landed in the Philippines as it took delivery Monday of the first of several planes to be based in Clark Freeport in Pampanga.

AirAsia Philippines, a joint venture between a local group—Antonio "Tonyboy" Cojuangco Jr., Michael Romero and Marianne Hontiveros—and Malaysia's Tony Fernandes, aims to become one of the leading players in the country's competitive air travel sector.

According to company officials, AirAsia is scheduled to start regular flights from Clark by October this year once it receives the required government permits.

The officials, in a briefing on Monday, said the airline would start with popular regional destinations such as Singapore, Hong Kong and Macau.

"This is a proud moment for AirAsia Philippines as the arrival of the new aircraft signifies our first step in introducing ourselves to the nation," said Hontiveros, AirAsia Philippines' president and CEO.

AirAsia Philippines expects to take delivery of its second plane by the fourth quarter of this year, while two more are scheduled to arrive by next year.

The company intends to turn Clark, which it earlier chose as its home in the Philippines, into a major hub in Asia-Pacific.

Hontiveros said the Diosdado Macapagal International Airport (DMIA) could become a jump-off point for passengers from other countries who might want to fly to other destinations within the range of the Philippines.

AirAsia's fleet is made up mostly of Airbus A320 aircraft, which can fly for only about four hours at a time.

She said Filipino passengers would be able to take advantage of AirAsia's regional network to reach more destinations.

Romero, the joint venture's vice chairman, said the company aimed to have a total of 13 to 15 new planes in three to five years. "But if you look at the way AirAsia has expanded in other countries in the region, they usually reach their five-year targets in as fast as two years," Romero said.

AirAsia Philippines is the group's third subsidiary in Southeast Asia, next to AirAsia Indonesia and AirAsia Thailand.

Hontiveros said the company also aimed to turn the DMIA into a hub for long-haul flights to destinations such as Europe and the United States.

AirAsia Philippines' sister company, AirAsia X, has direct flights to London and Paris.

Romero said the Philippine unit was not ruling out the possibility of mounting long-haul flights of its own, particularly to the US.

Clark International Airport Corp. president and CEO Victor Luciano said AirAsia Philippines was expected to be one of the biggest players in the country's competitive airline industry. "We want (AirAsia) to propel Clark to new heights in years to come," Luciano said.