For The Love of The Filipinos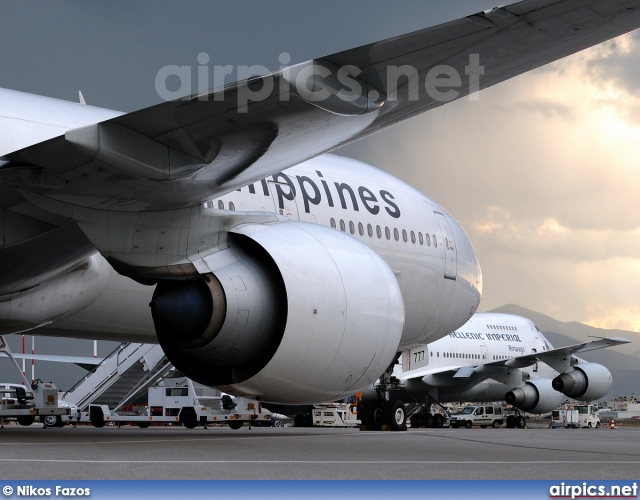 Philippine Airlines B777-300 (RP-C7777) at Crete International Airport in 2011. Images courtesy from Nikos Fazos.
9 August 2014
Flag carrier Philippine airlines PAL will send two Airbus A330-300 planes to Europe for mercy flight back home of stranded overseas Filipino working in strife-torn Libya.
The mercy flight is being chartered by the Department of Foreign Affairs (DFA) to the island of Malta, a European Union country in the Mediterranean Sea, on August 12.
The DFA was planning to charter both Boeing 777-300 from PAL but the airline said their new mono-class Airbus A330-300 carries more passenger at 430 than the Boeing triple seven at 350. The government previously chartered two B777 flight to Crete, Greece three years ago.
PAL said its new A330 can fly fully loaded from Malta to Manila and it would take the airline about ten hours to fly there as earlier flown by the B777 to Crete in Greece but much farther.
The DFA issued an order for the "mandatory" evacuation of all Filipinos in Libya last month, after the beheading of a Filipino construction worker abducted by unknown suspects in the eastern city of Benghazi.
That government said it would try to evacuate all of the 13,000 Filipino migrant workers in Libya but at present only 1,036 have registered to leave Libya and board a sea vessel capable of accommodating 1,500 passengers.
DFA said the transported passengers will be ferried to the Malta International Airport where charter flights from PAL will be waiting.
The charter will last for three days and cost Filipino Taxpayer US$6,000 per passenger. But DFA spokesman Charles Jose said the national carrier has agreed to bring down the airfare cost to $1400 per person.