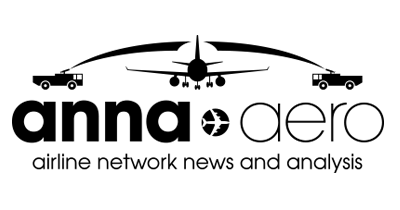 6 January 2018
Mactan Cebu in Figures
Cebu Airport rises 149% in the past 10 years
From 2008 to 2017 the number of seats available from Cebu Airport increased by 149%. In 2008, just over 2.69 million departing seats were flown. This had increased to 5.33 million by 2013, with five years of consecutive double-digit growth. Cuts in 2014 have been followed by another three consecutive years of growth, with capacity increasing by more than a third between 2014 and 2017. It should also be noted that the average capacity per departing flight from Cebu increased from 144 to 153 seats from 2008 to 2017. This included an increase in average capacity from 134 to 140 seats on domestic services, and from 188 to 197 seats on international flights.

Domestic and international services have both seen increases in capacity from Cebu over the past 10 years. Domestic routes have historically dominated the schedules. In 2008, flights to domestic destinations accounted for 74% of all departing seats. This increased to a peak of 80% as recently as 2013, but in the past few years international capacity has seen stronger growth, and in 2017 international flights represented 30% of departing seats. International capacity grew from 0.70 to 1.98 million seats from 2008 to 2017, an increase of 185%, while domestic seat numbers rose from two million to 4.73 million, an increase of 137%.
Cebgo Grows 200%
Philippine Airlines is the largest carrier at the airport, accounting for 29% of all departing seats. More than two-thirds of this capacity was operated on domestic services. Cebu Pacific Air was the next largest operator.
Cebu Pacific and Cebgo have been included as separate carriers, since Cebgo maintains a separate IATA code under which it provides published capacity, despite operating under the Cebu Pacific brand. CH Aviation shows that Cebgo was re-branded from Tigerair Philippines in 2015. If Cebgo's capacity is considered alongside that of its parent carrier Cebu Pacific, the combined operation would have provided 2.64 million seats from Cebu in 2017, eclipsing Philippine Airlines and accounting for 39% of all departing seats from the airport.
Cebgo experienced the largest increase in departing capacity at Cebu among the top 12 carriers from 2016 to 2017, while parent Cebu Pacific saw the biggest decline. Cebgo's seats increased by 200% while Cebu Pacific's dropped off by 15%. This was mainly due to domestic services being transferred from Cebu Pacific to its regional arm. Examples of routes where capacity was transferred from Cebu Pacific to Cebgo include the links from Cebu to Bacolod, Butuan, Cagayan de Oro, Iloilo and Ozamis. If Cebu Pacific's and Cebgo's capacity is merged, the combined operation saw a 6.3% increase in seats from 2016 to 2017, with all of the growth coming on domestic services.
Other top 12 carriers that experienced strong rises in capacity at Cebu from 2016 to 2017 included Jin Air, Philippines AirAsia, Emirates and Jeju Air with respective capacity increases of 99%, 46%, 35% and 32%. Three carriers (highlighted in red) saw reductions in published capacity from Cebu.
Manila Tops Domestic Route
Manila is by far the most popular destination from Cebu, accounting for 44% of the domestic seats available from the airport in 2017 and 31% of all departing seats. OAG data shows that the Cebu–Manila airport pair will be operated by Cebu Pacific, Philippines AirAsia and Philippine Airlines during the week commencing 2 January 2018, with 186 combined flights scheduled between them.





Despite this, capacity on services to Manila actually declined by 6.8% from 2016 to 2017. The top 12 domestic destinations with the most growth from Cebu during this period include Caticlan, Clark, Puerto Princesa and Kalibo, which saw 257%, 93%, 66% and 53% capacity increases respectively. Five of the top-ranked domestic links experienced a decline in capacity from 2016 to 2017 (highlighted in red) with Cagayan de Oro seeing the biggest reduction, with an 18% fall in seat numbers

.
South Korea Tops International Route
Cebu Airport's route map from 2 January 2018
South Korea was the most popular international country market from Cebu in 2017, representing 44% of all departing international seats. In all, nine international markets were served from the airport over the course of the year, eight of which are located in the Asia-Pacific region.
Of these, China saw the strongest growth in capacity from 2016 to 2017. New Routes Database indicates that airlines launched nine new services between Cebu and China during 2017, including Philippine Airlines' links to Chengdu and Beijing, plus Sichaun Airlines stating flights from Chongqing. The top 12 international routes in 2017 all served destinations in the Asia-Pacific region, including three in South Korea, three in Japan and two in China. Chongqing was the only new route to enter the top-ranked international destinations from Cebu in 2017.
Of the existing top 12 services, Daegu experienced the strongest growth last year, since 2017 was its first full year of operation with t'way air. None of the biggest international routes from Cebu experienced significant capacity cuts during 2017, with Osaka Kansai (highlighted in red) witnessing a negligible 0.4% reduction.
The longest sector served from the airport in 2017 was Philippine Airlines' direct service to Los Angeles, but this was discontinued in May. Dubai is now the longest route flown by Emirates Airlines notwithstanding its triangular service to Clark.